Wilbur Ball, MCC's founding president, remembered for vision, planning
Friends and associates remembered Wilbur Ball, McLennan Community College's founding president, as a visionary whose planning and concern for students and community laid the groundwork for the 56-year-old college. Ball died Wednesday morning after an extended illness. He was 93.
In his 23 years as MCC's president, Ball shaped the college, from its physical layout to its programming for students and the community, MCC President Johnette McKown said.
"He laid the foundation for the college, and building a college from the ground up has to be hard," McKown said. "He also had an expectation of excellence and caring for students that continues today."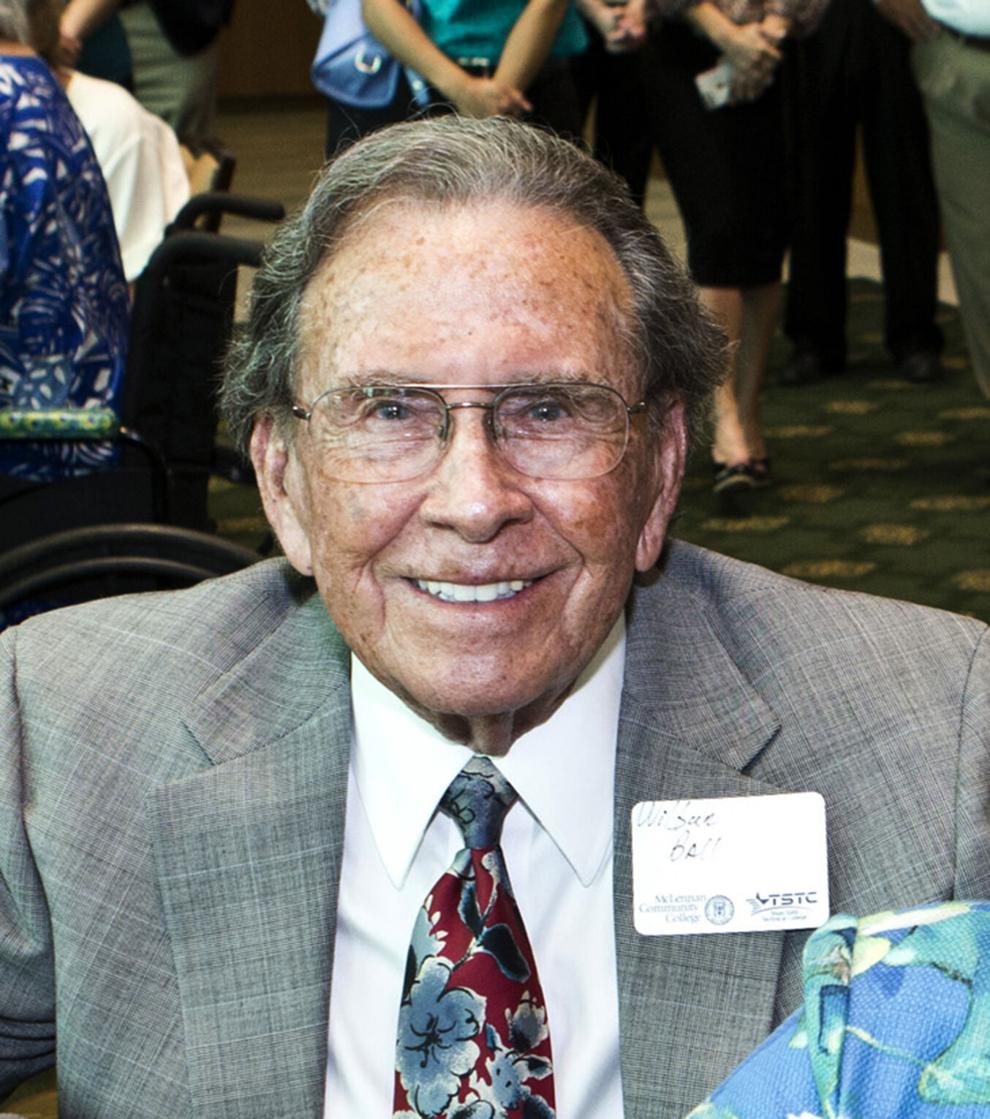 Born Sept. 30, 1928, to Arthur Lee Ball and Dolly Dorsey Ball in Berclair, Texas, Ball moved into education as a career after service in the Army Air Corps and an education degree from the University of Texas, where he later returned for a doctorate, according to a biography provided by MCC.
Starting as a high school English and Spanish teacher, he shifted into educational administration starting at Del Mar College in Corpus Christi. He married LaWanda Gersbach in 1962 and the couple later moved to Wharton where he worked as vice president and dean of Wharton County Junior College. In 1965, he signed on as president of the fledgling McLennan Community College, then meeting on the former James Connally Air Force Base where Texas State Technical College now resides.
Six months after his hiring, more than 800 students were enrolled in MCC's first classes, according to the MCC biography. Ball then led the move to the school's existing campus centered on a wooded hilltop in North Waco and was instrumental in its design and layout. That design, with architect Hal Stringer, moved roads and parking spaces to the campus perimeter, leaving a tree-shaded center of campus.
Dennis Michaelis, who followed Ball as president in 1988 after serving as president of Paris Junior College, said Ball's ability to look into the future was remarkable.
"He was hired when everything at MCC was just hills and trees. … How do you walk on a piece of property that big and envision what it can become? It's kind of mind-blowing," Michaelis said.
Ball hired the college's first faculty and with the school's board of trustees set the framework for what the college would offer both students and its community, which included fine arts and athletics, programs that not every Texas community college offered, McKown said.
Al Pollard was hired as dean of workforce education in 1973 and served until Ball's retirement as president. He said Ball was a "master planner" with a strong sense of providing education for the community, whether job training or continuing education, both of which Pollard oversaw, first as dean and then as vice president for program development.
MCC was the first Texas community college to put "community" in its name, and that was intentional, Pollard said. Ball and his staff also worked for diversity not only in the students MCC served, but in its faculty and staff, he said.
Paul Holder, one of the college's longtime faculty members, said Ball was a leader with a concern for his college and community alike.
"So many owe so much to the institution. Dr Ball was not tall in stature, but so tall in character, intellect and his concern for the people of this area that my 6'6 frame would be covered by his shadow," Holder wrote in a statement.
MCC named what would become one of the college's most used and community-facing buildings after him, the Ball Performing Arts Center.
McKown said Ball's concern to make college affordable, provide educational excellence and offer a broad experience for students has continued in the decades since he retired.
After retirement, Ball and his wife continued to live in the area and remain active in the Waco community, tending to his ranch with periodic travels to Central and South America and Europe.
The community college that Ball helped get off the ground now has an enrollment 10 times the school's initial enrollment, with extensive class offerings, degree plans and collaborations with four-year institutions Texas Tech University and Tarleton State University.
"MCC wouldn't be what it was without him. The college is his legacy," said Bob Sheehy Jr., a longtime former MCC trustee whose late father and former Waco Mayor Bob Sheehy was a personal friend of Ball's and worked with him on several community projects. "He gave MCC an identity."
McKown said Ball periodically called her and encouraged her in her work as president. She said she is reminded most of Ball's work at each graduation ceremony, where she sees a broad, diverse group of graduates receiving their degrees.
"It means the most to me at graduation, when I think about what the opportunities where in 1965," she said. "They were much less than they are now."
Details about visitation in Waco and graveside services at St. John Lutheran Church in Bartlett are pending.
Memorial gifts may be made to the McLennan Community College Foundation.
Get our local education coverage delivered directly to your inbox.