Kyrgyzstan smells like burning coal and horses. The air is dry. The mountains rise up in all directions — rocky, craggy, snow-covered peaks, fresh and unworn from their tectonic birth.
It's the kind of place where you say, "This looks like Wyoming or Idaho or Afghanistan or Mongolia or Mars." Because it does look like all those places. And because it's hard to get your mind around Kyrgyzstan as its own place, because you didn't grow up wanting to go there or read about it — or even know it existed. Because, in so many ways, it did not.
Even though the culture and the construct has existed for thousands of years, the name "Kyrgyzstan" did not appear on any map until the early 1990s after the fall of the Soviet Union.
Years ago, when I imagined an overland trip across Central Asia, I read through the Lonely Planet descriptions of all "-stans." And the line that never left me was this: "Do you like endless steppes and horse sausage? Then you'll love Kyrgyzstan."
I can tell you now that the person who wrote that line probably thought they were being clever, but I can also tell you they probably never went there.
Imagine a country that stretches your imagination with towering mountains in all directions and men riding by on horseback as fast as they can go, a happy dog running alongside. Imagine clean, endless night skies. Bowls of tea, refilled the second you take your last sip. And any outdoor adventure you can dream up for yourself — available for you, and you alone: fly fishing, mountain climbing, skiing, hiking, hunting and horseback riding.
It's the perfect place for these times.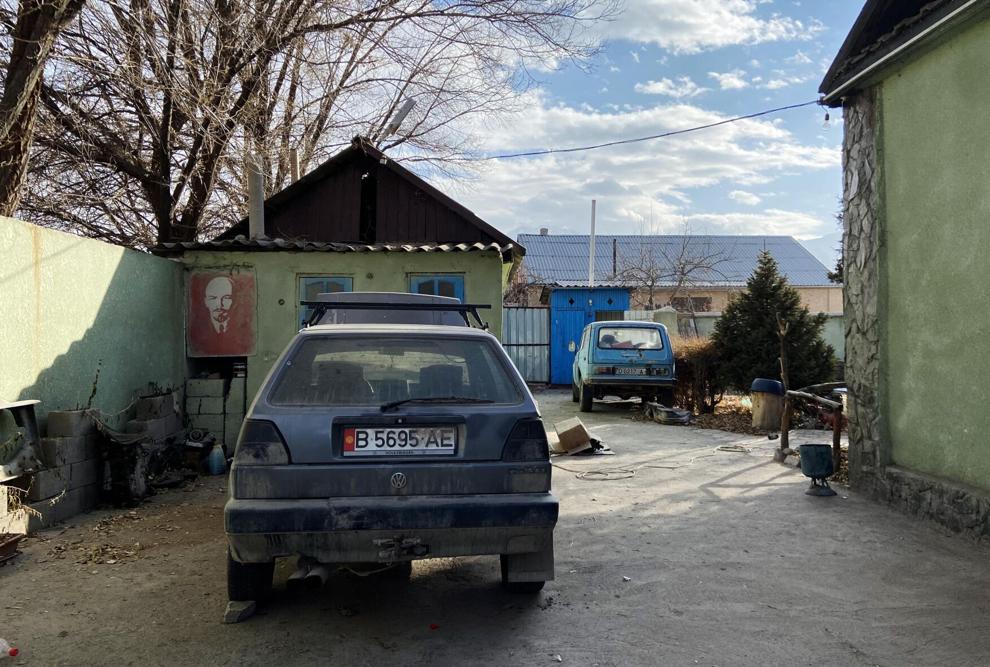 With constantly changing travel restrictions, Kyrgyzstan has set itself up to attract tourism. It doesn't require a visa to get in. It does not have a quarantine period upon arrival. It responded quickly to COVID-testing requirements for travelers, with mobile PCR testing companies that will come to your hotel. And when the United States shortened the window for a negative test to 24 hours for re-entry, a lab in Bishkek rushed a test for me that gave me results a couple hours before my flight home, even as they reminded me they don't do rushed tests.
People always ask, "What's the best time to visit a country?" The best answer: When you can go.
I went in winter, when the temperature hovered deeply below zero. I saw no other tourists the entire time I was there, even though I was assured there were others. Going at the "wrong" time of year gave me the gift of getting to experience something alone, by myself, without commentary or competition.
I stumbled into this country after almost two years in the pandemic. Desperate for an adventure. The world had become oversimplified by the pandemic — algorithms, kitchens and living rooms, working from home, streaming services, pods of friends. The isolation seemed to set people, hardening them in their molds.
Accessing the larger world — the thing about travel — reminds you just how complicated it is, and the more you know, the more there is to know. It humbles you, because you are insignificant, and wrong about so many things.
I needed to break the shell that was forming around me from too long inside my physical, mental and emotional comfort zones.
Travel in the time of COVID. It's the best and worst time to go.
Leading up to the trip, I refused to anticipate. I dreaded every step in the journey there, believing I would get turned away. Something would be shut down, canceled, changed at the last minute. The pandemic taught us all that nothing is certain. But I didn't understand how deeply I had internalized a sense of dread about the future, a fear of wanting something, until people started asking me that horrible question: "Are you excited?"
"I'm trying not to get my hopes up," I said.
Days before I left, the United States changed COVID restrictions for international travelers to a negative test 24 hours before arrival. Omicron was spreading fast and had just shown up in a few states. I waited for travel bans and disappointment even as I landed in New York.
At JFK, there was chaos as people scrambled to get their COVID test results printed out. Turkish Airlines needed passengers to show results and get a reissued ticket before heading to security. Regulations and processes seemed to change in real time. Even the most seasoned travelers were having a hard time navigating. Travelers were asking each other for help in Greek, Italian, Turkish and English, and as soon as someone in the crowd learned something new, they would shout it out to everyone else.
I still didn't believe the trip was happening through the nine-hour flight to Istanbul. And the easy transfer to my gate to Bishkek, capital Kyrgyzstan. I showed my COVID results and vaccination card at the gate, got a stamp and boarded. And even when I landed in Bishkek, I imagined an invisible hand about to turn me back.
A woman sat at a folding card table checking COVID tests before we were allowed into the passport line. She shook her head as she looked at my results, running her fingers over it, looking for a mistake. She had the aura of a bureaucrat and I impulsively passed her my vaccination card. And then I passed her my booster card. Bureaucrats love additional papers, and something about the shower of new information satisfied her. She waved me through.
***
Travel advice: Do the hardest thing at the beginning of your trip. It shakes away the outside world and gives you a way to connect with people for the rest of the time as you tell your story.
The adventure began.
Fear strips away the fat and muscle of your sense of self-control. It leaves you with just your exposed bones, barely unable to hold yourself up, and the loud sound of your panicked breathing.
"I don't want to," I heard myself saying. "I can walk. I can make it without this horse." But I knew I couldn't. The snow was too deep. The rocky lip of the mountain was too steep. But the horse seemed unsteady after slipping a couple times. And it was a stranger to me.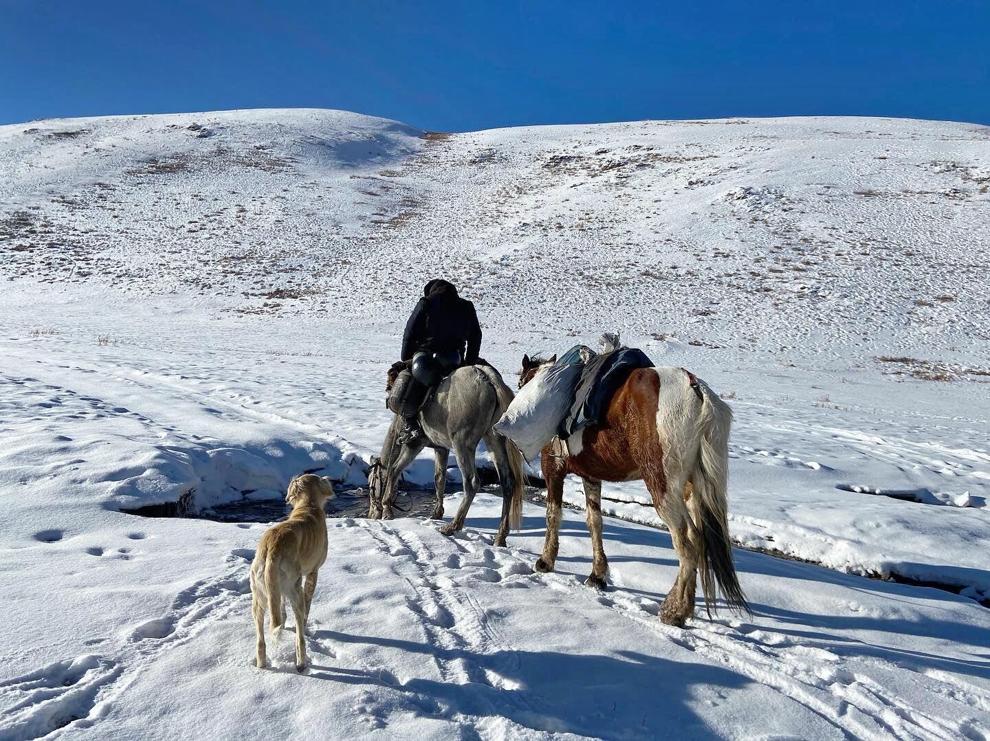 I took my feet out of the stirrups, preparing in case we fell.
I couldn't tell if the sound of my breathing was my lungs reaching for air at 11,000 feet or if it was real fear. Either way, I knew it was unsettling to the horse. I could smell its body beneath me — its thick fur from centuries of breeding in this cold, harsh climate. I said a quick prayer, "Please let me live through this." I leaned forward, pressed my heels against its ribs and we both made the jump out of that snowy hole, over the rocks, to the other side of the mountain.
Instead of a steep drop, the land opened up into a rolling valley. The sky was cloudless blue hanging over untouched bright white snow. The horse fell into a rhythm. The Saluki dog that came with us ran ahead and then back, ahead and then back — as happy as any of us to get over the hard part of the day.
Cupped in the palm of this beautiful place, we were headed to Song Kol — a glacial-fed alpine lake — frozen and snow-covered this time of year. The temperature was well below zero and dropping as the sun got lower on the horizon. It had taken all day to hike up one side of the mountain before the snow got too deep. The wind blew most of the morning, so I walked with my head down, watching snow blow around my boots and occasionally looking up to see the red dirt mountains ahead and the expanding landscape behind me. I could see more of the world with each hour of climbing.
I kept thinking: this is what pictures of Mars look like — red, windy and wind-stripped. Empty except for me and the three men and four horses (and two dogs) I had hired to get me here.
The sun set quickly after we arrived at the lake, as if it had been waiting with a hand on the light switch. On the edge of the lake in winter, there is one yurt left open for anyone passing through. There is a cargo container full of hay for horses and a storage of coal for the stove.
The men went into the yurt to get the stove going. I stood outside and looked up at the stars.
The thing about standing alone in a snowy mountain valley is that you are the noise. The wind wasn't blowing. The temperature was far enough below zero that the frozen lake wasn't cracking and moaning.
The only sound was my Sorrel boots compressing the untouched snow. The night was perfectly divided between the white Earth and the black sky. Low on the horizon was a light so bright that for a moment I thought it was a street lamp, so bright I had to force myself to believe it was Venus. Because it was. Slightly above Venus was Saturn and then Jupiter and then the crescent moon. My eyes followed the line of planets past the moon to the rest of the sky. The Milky Way was spilled across half the sky. If there was a constellation in the Northern Hemisphere that I knew, I was able to find it. It felt like a map, perfectly placing me in the universe.
Living at sea level — even when you head to the beach and strain your eyes — the universe feels far away. You're tucked deep under layers of atmosphere.
Without knowing it, this is what I had come for — traveling 9,000 miles and 11,000 feet to see those close, naked stars of Kyrgyzstan. I had come to be reminded. You are here. You are alive.
One of the men lifted the flap of the yurt to check on me, wondering why I was standing out there freezing, alone. Inside was a coal-burning stove with water boiling for tea. There were warm blankets and a meal of oily rice, carrots, potatoes and beef. There was bread and butter and apples, all brought in by horseback. But I didn't want to go back inside just yet. This moment, I knew, would be something I would long for and was only experiencing in this awe-filled way because I didn't know it was coming.
He walked to the edge of the lake and looked up at the stars with me.
"When I heard that someone wanted to come to Song Kul in the winter, I thought it would be a man," he said.
"This is a surprise to me, too," I said.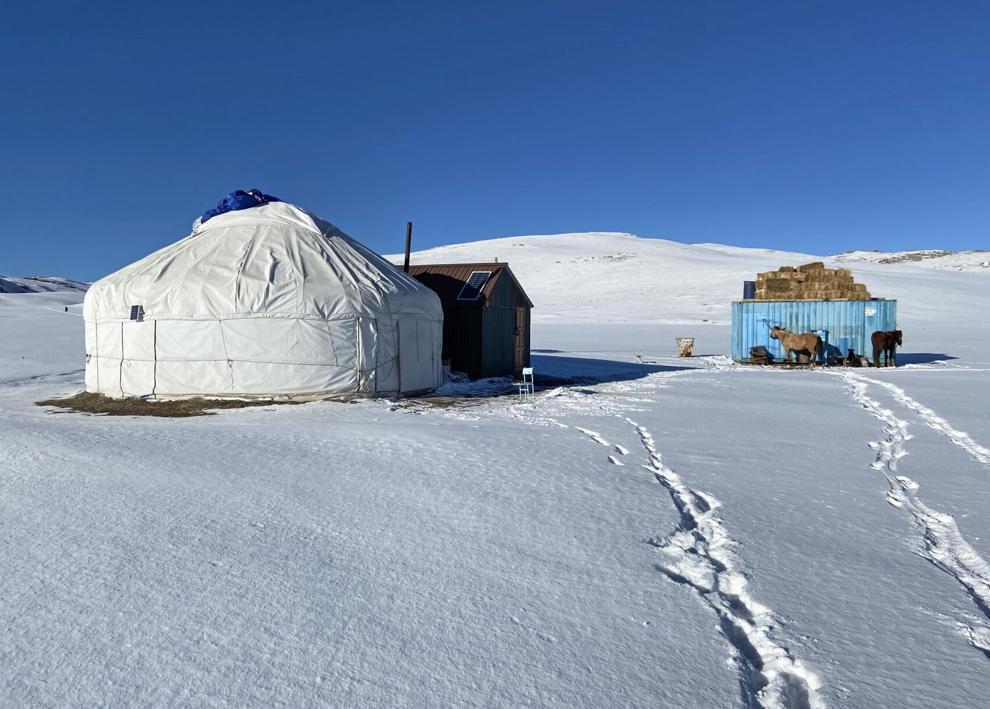 ***
Failure feels like a fire you can't keep burning. I had never shoveled coal into a fire to stay warm. I've built a thousand campfires — perfectly assembled. First the small kindling. Then the sticks. Then the pieces of wood, all organized into a pyramid. And when you light it and watch it grow and take a perfect shape and accept new pieces of wood without folding — you feel something just adjacent to pride and accomplishment. It taps that primal moment of having contributed something real to the survival of the group.
The feeling is just as primal when the fire won't burn.
Next to the stove was a bucket full of coal and a shovel. A pair of leather gloves for opening the stove.
Any fire needs to be attended. It's when you get lazy, too comfortable under the blankets for too long, that the fire starts to die down and is harder to get it going again.
And there's an extra weight that comes from being a woman who can't keep a fire going. Because everyone knew you wouldn't be able to. "Women always talk a good game until it comes time to play."
So there you are. 3 a.m. 20 below outside. The wind is pushing harder against the wool walls of the yurt, trying to get in.
You finally get the right mix of coal and flames and oxygen. The stove is glowing again in the darkness of the yurt. You go back to the bedroll on the floor and listen to the sound of the water in a large metal bowl on top of the stove start to boil
I was already sleeping in socks, long underwear, a sweater. I hadn't changed clothes much that trip because it was too cold. I changed my underwear under the blankets in the morning, but otherwise kept all the layers on. Pulled my hair back. Put on a hat. Laced up my fur-top boots. Zipped up the puffy down jacket that had duct tape keeping closed a burn hole from another trip. Chapstick for the wind and sun.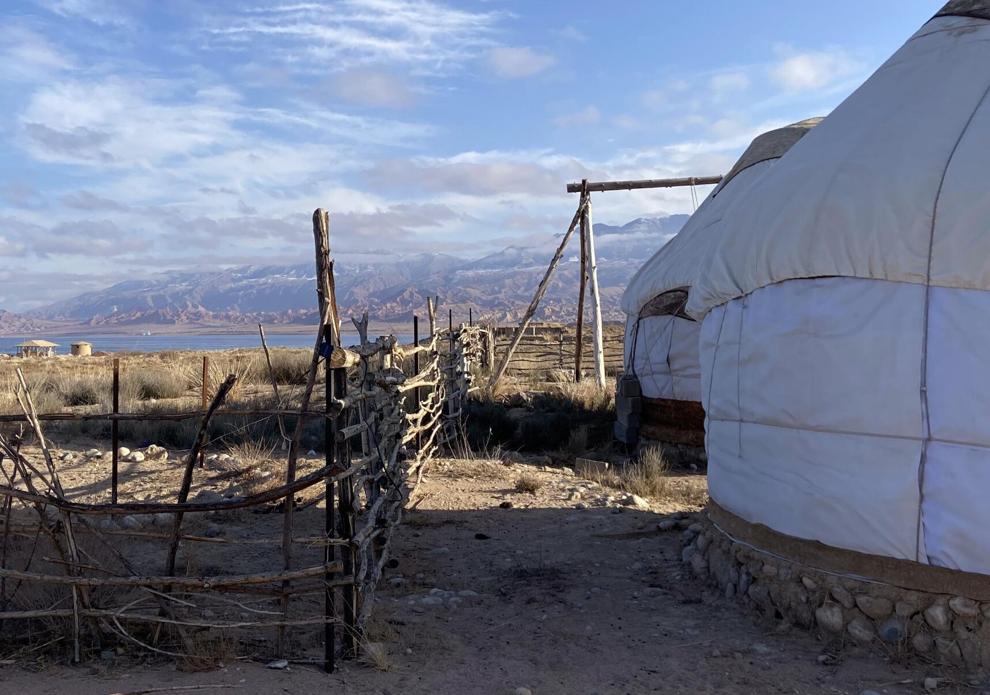 Here's the question I asked myself that a lot on this trip:
Is it better to struggle with others or by yourself?
My Russian is poor. In Kyrgyz, I can only say "hello, how are you," "please" and "thank you," and the numbers one, two, three, five and six. I could never remember the word for four. So my time in Kyrgyzstan was very much about being with myself.
When you're cold and don't want to get dressed to walk to the outhouse in the snow, when the altitude makes the top of the mountain feel farther away than it is, when you can't get yourself to eat the pungent homemade butter, is it better to have someone there to witness your lows or is it better to push through on your own and laugh about it at dinner parties later?
I tend to assume that other people would be stronger in those situations and it would feel worse to slow march up a mountain while someone was waiting impatiently at the top or to feel someone's embarrassment when you don't finish a plate of meat, fresh killed that day, because your body won't let you.
Better to experience the shame and triumph of your own struggles alone and share them as lessons learned.
***
First, we drink tea.
This is a famous man, but I didn't know it.
This is a life-changing experience I was about to have, the kind of feeling I will chase for the rest of my life. But I didn't know it yet.
When we pulled up to the property two eagles were crying out — over and over. It's was loud and piercing and would sound like pain if you didn't know better. If you've kept chickens or any animal, really, you know the sound. A bird excited for food. Not a meal. A treat.
It's something humans can do to animals. Train them to want a treat. To get a treat when they do the right thing. Any animal, given enough time, will do what you want for its favorite snack.
Even an eagle with talons larger than a human hand and a 6-foot wingspan.
Even an eagle captured from deep in the highest mountains of Kyrgyzstan when it was young, because it was brought down to this place and taught to hunt and return in exchange for scraps of raw meat.
The crunch of tires from our Toyota Sequoia must have alerted it that a treat was coming.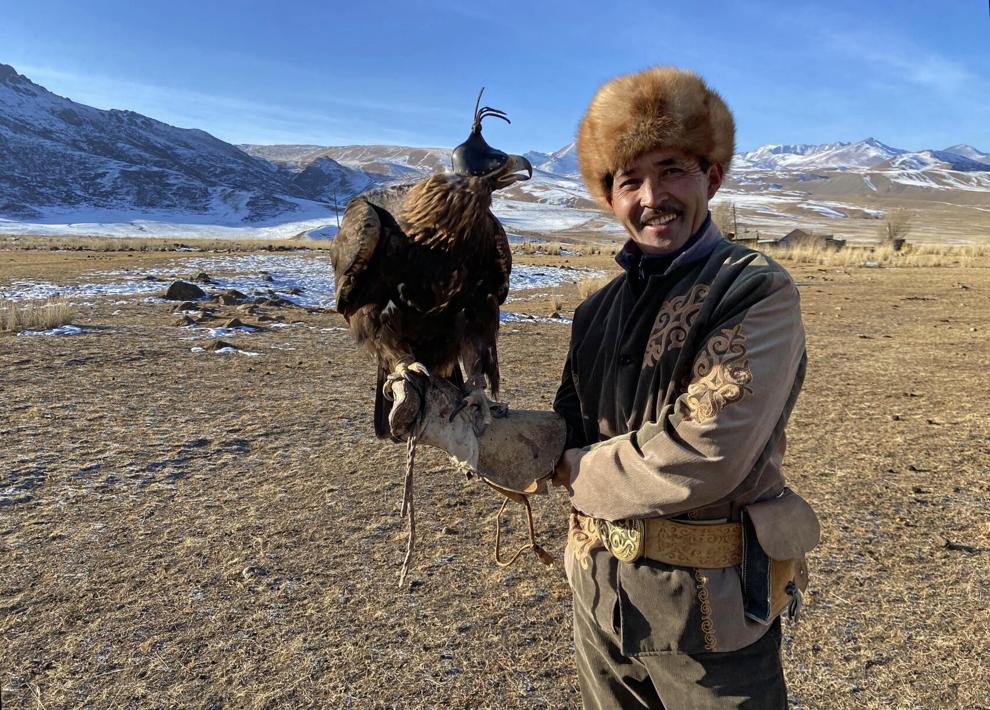 It lives in a building made with the mud and grasses of the surrounding landscape, with wire mesh windows and a corrugated steel roof. This land is the home of a fourth-generation eagle hunter. This building for the eagles was inherited, as was this tradition. The man said he didn't keep hunting on horseback with these eagles because he needed the meat or the fur. He did it to keep something alive — this 4,000-year-old skill. Today, there are only 70 traditional eagle hunters left in the world.
Come to the annual World Nomad Games and you'll see it for yourself.
Or do like I did. Wander into this part of the world in the winter, and drink tea with the family of the eagle hunter. Learn the answer to the question of is it better to struggle alone or with others.
As we drank tea, grandparents, wife, hunter, my driver told everyone I had just come from hiking into Song Kul in the snow. I felt something shift in the room as everyone gasped and smiled at me — asking if I was crazy, but a little proud of my achievement.
We walked outside together and toward the mud brick eagle house.
I expected to be afraid when the hunter handed me a leather glove so I could hold the giant golden eagle on my arm. I expected to have to adjust to that fear and I readied myself to overcome it so I could focus on the experience.
Instead, I was immediately comfortable, relaxed, at home. That eagle felt like an extension of me. It felt like it belonged there. I felt the bird's presence — not just its physical presence but something else — so close to me and I became overwhelmed by emotion. My eyes started to tear up and I knew that if I let myself, I would weep openly.
In my lifetime, I can count a handful of times I was caught off guard in this way. Standing at the edge of a volcano, sitting on top of a mountain in Alaska in the fog and seeing two white birds fly in and out of the mist next to me, my first year of beekeeping, having a giant sturgeon leap out of the water next to my kayak at night under a full moon. Moments that you can't create or recreate, even though you spend the rest of your life trying.
When the eagle was back with the hunter, they pressed their foreheads against each other — bird and man — in a deep expression of affection and knowing, like I've seen so many people do with a dog.
He said the eagle could live 50 years and that he will hunt with it for 10 before returning it to the mountains so it can mate and live a wild life.
He handed me a tail feather that had fallen, something to remember the day. And we went back inside to drink more tea and to see photos of him around the world with that bird — in Saudi Arabia and England. He posed next to people with falcons, holding his massive Kyrgyz mountain eagle, looking not out of place among people who love to ride horses and hunt, no matter the country. I wondered if they could imagine him here, in this bare sweeping valley surrounded by mountains and sky and the land and traditions of his father and grandfather and great-grandfather.
***
I went to Kyrgyzstan in the winter. But I could tell from the infrastructure I saw — yurt-filled campgrounds with bathroom instructions in English — that summer is the time to go. The mountain that was hard to climb in winter melts away into a road passable by a four-wheel drive Toyota Sequoia that is the vehicle of choice for guides there.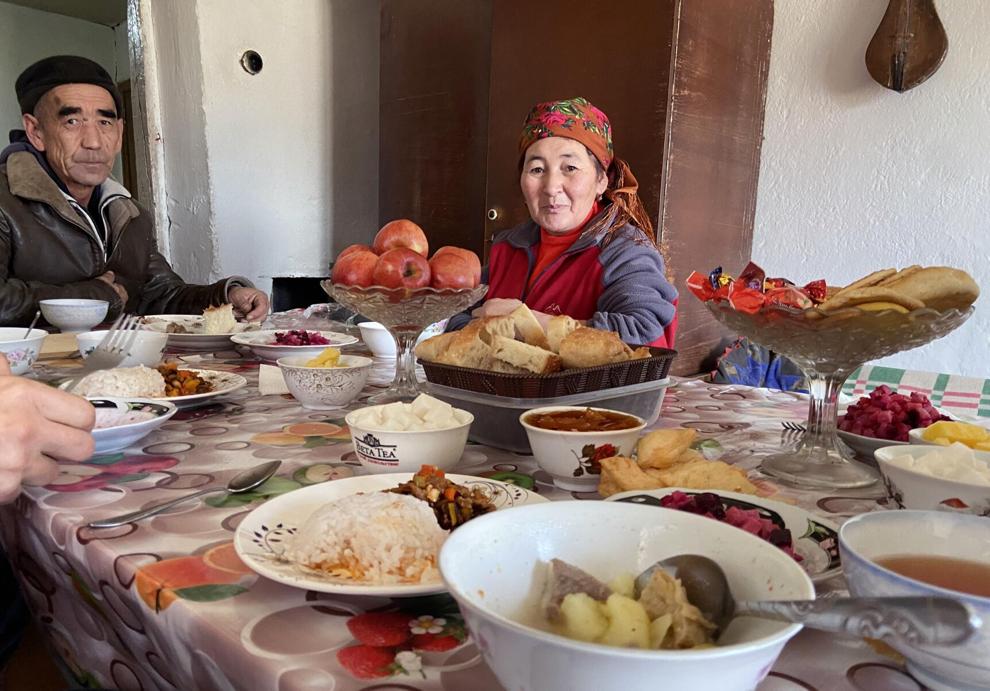 There are times in life that you have time and times that you have money and those are not always the same. If you have time, Kyrgyzstan has a system of public transportation if you know where you want to go, and locals willing to help you find your way when you arrive in any village. When I arrived in the village of Kyzart on my way to Song Kol lake, the one guest house in town was closed. But I was invited to stay in a home to sleep on the floor in their living room on a rollup mattress. When I returned from my trek in the mountains, they welcomed me back with a meal of beef and liver from a cow killed that morning. And when I asked if there was a place to take a shower, they lit a fire and heated water for the sauna in an outbuilding by the horse stable.
The woman of the house told me she met a Chinese woman traveling on her own who arrived by bus and hiked into the mountains by herself. They communicated through Google Translate on her phone. It's possible.
Instead, I had more money than time on my two-week vacation.
I arranged everything through James Willcox, co-founder of an adventure company called Untamed Borders. He's best known as a fixer for journalists and documentary filmmakers, specializing in Afghanistan and Pakistan, the Middle East and East Africa, and Soviet Central Asia. He arranged a driver and everything else I needed for this trip with very little notice. I get the sense that if there's something you want to do, anywhere in the world, they can make it happen.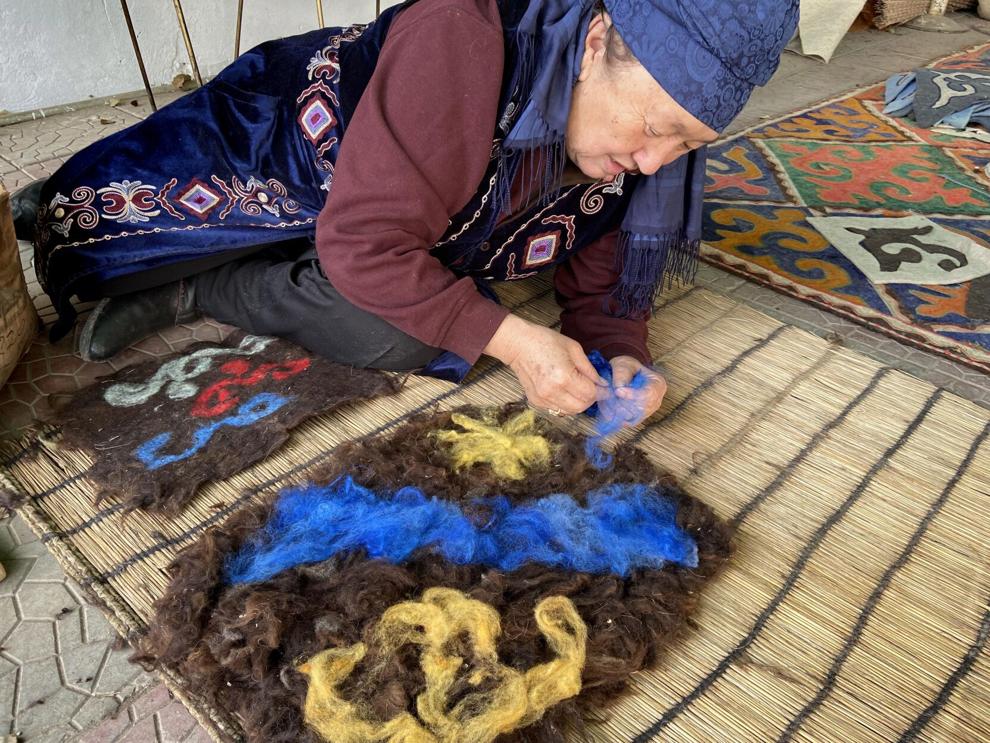 After two weeks of hard travel in Kyrgyzstan, I ended the trip with a day of skiing at Karakol. You can rent skis, boots and poles in the town of Karakol, which is a proper tourist town with international food options, mobile PCR tests and hotels with showers. There's something wonderful about doing something familiar and easy after a couple weeks of being out of your comfort zone. The lifts are metal without cushions, but otherwise you could be in any resort anywhere in the world searching for stashes of powder.
I rode the lift to the top. Two men were in the chair behind me, singing traditional nomad folk songs at the top of their lungs. I didn't understand the words, but I knew the meaning. It was an epic poem set to music, passed down from generation to generation telling the story of long journeys, heroes on horseback riding forever into the mountains.
What to bring
I packed one bag and still had more than I needed. Because you're outdoors most of the time and sleeping on the floor on futon-like mattresses, I dressed just as I do for camping, with lots of layers. Here's what I packed:
Headlamp

Small box of Moon Drops, little tablets to help you sleep and get over jet lag quickly since it's an 11-hour time difference.

A pair of Sorel Tofino boots that I bought at Half Moon Outfitters. It felt ridiculous to buy them on a warm day in Charleston, but the aggressive sole, waterproof build, and fur lining kept me dry and warm. They were the best purchase I made for this trip.

Ski pants, mittens, hat, warm calf-length socks

Long underwear shirt and leggings — two sets

Two wool skirts

Fleece vest

Down jacket

Polarized sunglasses

I brought a water bottle, but ended up buying a bottle of water on my first day and refilling it throughout the whole trip instead. There are mountain springs everywhere with the best water you'll ever taste.

Wet wipes. Expect to use outhouses and rarely see a shower outside of the capital city.

Two handkerchiefs and a small towel

Portable phone charger. I have a Unitron World UltraSlim Power Bank that's about the size of credit card, metal and holds enough juice for three full phone charges.

$100 bills. You can use ATMs to get local currency, but if you go to a money changer they won't take anything smaller than a $100 bill and those bills need to be in crisp condition.

Offline version of Google Translate — Russian. There isn't an offline version of Kyrgyz available, so Russian is your best bet for being able to communicate in the parts of the country that don't have internet, WiFi or cellphone service. I also printed out some pages of Kyrgyz before I left home and found them helpful.

Slip-on shoes for wearing inside yurts and homes where you must take your boots off at the door.

First-aid kit (what I have in my standing kit): Band-Aids, Neosporin, Advil (helps with the altitude), rehydration salts, antacid, antihistamine.

Paper copy of your negative PCR COVID test (don't rely on the copy on your phone — you'll need a hard copy), plus your vaccine and booster cards.
Get a weekly list of tips on pop-ups, last minute tickets and little-known experiences hand-selected by our newsroom in your inbox each Thursday.