As the week comes to a close, crypto fans are reflecting on another busy week of digital currency news. Most of the top crypto news stories this week deal in policy. Indeed, lawmakers in Europe and the U.S. are continuing their push to legislate various assets of the digital money industry; some of this news is optimistic for investors, while others stand to drag down progress.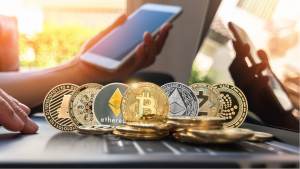 Source: Chinnapong / Shutterstock
With the global market capitalization of cryptocurrency surpassing $2 trillion once again, the asset class is proving its staying power. As such, the industry is reaching a critical mass of sorts — it's much too large for lawmakers to abstain from legislation any longer. Luckily, we are seeing some U.S. lawmakers slowly changing their negative attitudes on digital currency.
Let's take a look at who's joining the crypto flippening and other top stories from the week.
Top Crypto News of the Week
Janet Yellen and Elizabeth Warren soften on crypto
In some of the most unforeseen top crypto news, two of the most vocally anti-crypto officials are seemingly softening their stances on crypto. Earlier in the week, U.S. Treasury Secretary Janet Yellen made comments in which she stated she recognizes that "innovation in the payment systems can be a healthy thing." This comes after a long history of being openly anti-crypto. Another openly anti-crypto official softening their stance slightly today is Senator Elizabeth Warren. Warren, another staunch crypto opponent, is now supporting a Central Bank Digital Currency (CBDC).
U.S. lawmakers introduce eCash bill to bring centralized crypto to the States
One of the first centralized crypto proposals is surfacing in recent days via the eCash bill. This bill forgoes CBDCs in favor of a different currency, overseen by the U.S. Treasury rather than the Federal Reserve. With less stringent know your customer (KYC) requirements, eCash would allow Americans to transact anonymously. The bill, introduced by a trio of Democratic Congresspeople, was drafted with the assistance of a professor from Willamette University. It is a first-of-its-kind proposal and certainly an indication of how legislators are leveraging centralized crypto for the unbanked.
European Union legislators pass transfer of funds amendment
While some U.S. lawmakers are interested in enabling anonymous transactions, EU members are very much interested in forbidding them. Parliament voted through an amendment to its transfer of funds policy to include crypto. Under the new policy, crypto services in the EU must collect identifiable data from all parties who transact more than 1,000 euros in assets. The goal of the policy is to crack down on money laundering and other financial crimes, which it argues are enabled by the blockchain.
Ronin suffers one of the largest DeFi hacks in history
The Ronin (RON-USD) network is facing turbulence as it announced that it fell victim to a major hack. While hacks aren't out of the ordinary, the scope of this particular hit is jaw-dropping; the perpetrator of the heist made off with well-over $600 million in assets, mostly Ethereum (ETH-USD) and USD Coin (USDC-USD). The news contributed to Axie Infinity (AXS-USD) losses, too. The popular play-to-earn game is structured atop the Ronin network.
Zilliqa gains nearly 300% in anticipation of metaverse launch
No other crypto this week has seen a meteoric rise quite like Zilliqa (ZIL-USD). ZIL is posting gains of nearly 300% in value as of this morning. This comes ahead of its Metapolis metaverse launch, debuting Saturday, April 2. Investors are keen on the project due to its friendliness toward content creators. Not to mention the fact that developers are using some of the most high-end development tools available to craft this space. Starting the year with a market cap of less than $900 million, the project is now worth over $2.5 billion.
Helium draws in $200 million in funding, sees parent company rebrand to Nova Labs
Helium (HNT-USD) is one of the top Web 3.0 plays, promising to bring 5G wireless internet to every citizen through crowd-shared hot spots. The model has caught on greatly in recent years; there are over 650,000 hot spots deployed around the globe already. Now, the company is able to vastly ramp up its mission, thanks to a $200 million funding round lead by star-studded VC firms like a16z, Tiger Global and Reddit co-founder Alexis Ohanian's Seven Seven Six. Helium Inc., the parent company behind the project, is also rebranding to Nova Labs in an effort to further decentralize the network.
On the date of publication, Brenden Rearick did not hold (either directly or indirectly) any positions in the securities mentioned in this article. The opinions expressed in this article are those of the writer, subject to the InvestorPlace.com Publishing Guidelines.