Posted on Monday 22nd November 2021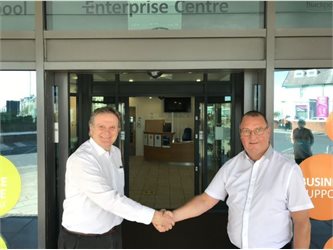 A Blackpool business continues to rapidly grow with the added support of Blackpool Enterprise Centre.
Mark Crampton who after more than 30 years in the accountancy sector launched South Shore Accountants Ltd in 2013 and is now employing additional people due to expansion
With more and more Fylde coast based work coming in, it wasn't long when he set up his business before he needed a base of operations beyond his kitchen table.
Mark turned to the Blackpool Enterprise Centre backed by Blackpool Council which offers office space for local businesses and advice services for new start-ups and more established businesses.
He said:
"I knew it was vital for my business if it was to expand that I needed serviced and secure premises. It was great when I searched that I came across Blackpool Enterprise Centre. I was impressed by the place straightaway as it gives you an immediate presence and offers a professional reception service and is staffed by extremely helpful and knowledgeable people.

"One of the best things about the centre no matter what size your company is the way they bring the people within the businesses together at networking sessions and seminars. It gives you a chance to find out more about the people based in the building and help establish business links." 
As a result of these links, Mark took on his first apprentice and a second has now joined. Mark also met another accountant who was based in the building, who mentioned he was planning to retire. Mark recalled: "He had around 70 clients and he gave me the opportunity to take those clients on. As a result of who we are and what we represent, we picked up something like 92% of his clients."
Success snowballed. The new clients brought more recommendations. South Shore Accountants Limited now provide a full suite of accountancy services helping local businesses and wider UK companies ranging from hoteliers, hair-dressers, taxi /uber drivers, tradespeople, store owners and digital companies, to petrol stations. Services include tax investigations, payroll and much more.
Now running a team of five, Mark has upsized the office again. He's contemplating taking on a second within the Enterprise Centre.
Mark added: "I really believe that, without being in this environment, our success wouldn't have happened so quickly."
Cllr Mark Smith, Blackpool Council, Cabinet Member for Business, Enterprise and Job Creation, commented:
"It is such good news to hear that a business which is based at the Blackpool Enterprise Centre is doing so well. Mark's success is a great example of the way the centre supports its tenants.

"It is not purely a business office space. Our advisors can support companies start up, get established and grow."

Posted on Monday 22nd November 2021