1 min ago
Russia says it's moving some troops to their bases — but what does that mean?
Analysis from CNN's Nathan Hodge
Russia announced Tuesday that some troops will be moving back to their home bases after completing exercises, a day after Russian Foreign Minister Sergey Lavrov told Russian President Vladimir Putin that diplomacy still had a "chance" – and Kremlin spokesperson Dmitry Peskov told CNN that Putin is "willing to negotiate."
How significant is this development?
Let's start with what we know: The statement given by Maj. Gen. Igor Konashenkov, the Russian Ministry of Defense spokesperson, was very short on specifics. Troops of Russia's Southern and Western Military Districts, he said, had begun loading up their gear to return to their bases, but gave few specifics about where those units had been exercising, what their home stations are, or how many troops in total were heading home.  
What's more, we know from Ministry of Defense news releases that exercises in Belarus involve a significant number of troops from around the Russian Federation, including units based in Russia's Eastern Military District – several time zones east of European Russia, a massive region bounded at its eastern edge by the Pacific Ocean.  
Remember that Russia is a massive country spanning 11 time zones. Its military divides the county into five administrative territories: the Western, Southern, Central and Eastern Districts and the Northern Fleet. You can see the all on the map here.
Troops leaving exercises in Crimea – annexed by Russia in 2014 – were technically exercising inside Russia's Southern Military District. Troops of the Southern Military District could potentially be returning to bases in the north Caucasus or Rostov oblast.  
Tuesday's statements, then, gives us very little official clue about how significant this move is: It could easily be a rotation – with fresh troops falling in – or a gradual drawdown after exercises. And Konashenkov made it clear that Russia's current exercises at sea have a fairly global sweep, taking place in "operationally important areas of the world's oceans" and in the waters adjacent to the territory of Russia. 
There are things to watch out for in the coming days. Putin and Belarusian leader Alexander Lukashenko are set to meet this week, and we may get some hint on when the exercises in Belarus will conclude – and when Russian soldiers there will go home.   
Asked about whether a decision on the withdrawal of Russian troops from Belarus would be made during that meeting, Kremlin spokesperson Peskov said: "Let's not jump ahead. Let's wait for the meeting." 
In the meantime, some Western officials were skeptical of the Russian troop announcement and said there had been no proof that a de-escalation of the crisis is on the cards.  
"The signs coming from Moscow about willingness to continue to engage in diplomatic efforts … gives some reason for cautious optimism. But we will, of course, follow very closely what's happening on the ground and whether this is reflected in some real de- escalation of the Russian military build-up in around Ukraine," NATO Secretary General Jens Stoltenberg told reporters on Tuesday.
11 min ago
Ukrainian defense ministry and bank hit by possible cyberattack
From CNN's Sean Lyngaas and Tim Lister
An apparent cyberattack hit the website of Ukraine's defense ministry and one of the country's largest commercial banks on Tuesday, according to Ukrainian government agencies' statements.
The bank has been under a distributed denial of service (DDoS) attack, which floods a website with phony traffic to disrupt access to it, Ukraine's Centre for Strategic Communications said in a statement.
The Ministry of Defense also said it was responding to what appeared to be a DDoS attack. 
It was not immediately clear who was responsible for the cyberattack. It comes as Russia has massed over 100,000 troops near Ukraine's border. 
Some more context: DDoS attacks are relatively cheap and easy to carry out. While they can be a nuisance, they do not necessarily require sophistication. 
A separate cyberattack hit Ukrainian government websites last month. Ukrainian officials suggested Russian and Belarusian involvement, but investigators have not formally blamed those countries for the cyberattack. 
33 min ago
US senators remain skeptical of Russia's claims of moving some troops back to bases
From CNN's Ali Zaslav and Ellie Kaufman
Senators on the Armed Services Committee remain skeptical of reports that Russia had started returning some troops to bases after the completion of military exercises in the southern and western military districts. 
"I think it's awesome, but again you can't trust Putin," Sen. Tommy Tuberville, a Republican from Alabama, told reporters outside of a morning Senate Armed Services Committee hearing. 
"Everything we've learned so far is that this will be Mr. Putin's decision. You don't know whether he's allowing us to see a small retreat while at the same time making other plans or if he's trying to send a message that he's interested in negotiating," added Sen. Mike Rounds, who also sits on the committee. "We simply don't know. What we do know is that he's amassed a huge army, that he's made it very clear that he wants concessions or he intends to invade."
The South Dakota Republican continued: "What we do know is that we have to be in a position to respond either way." 
Sen. Josh Hawley, a Republican from Missouri, echoed those sentiments and said he thinks it's "very serious" and "the situation is at a critical point."
Sen. Richard Blumenthal, however, took it as a positive sign and said it signaled that "deterrence seems to be working."
"Vladimir Putin is getting the message," he said.
But the Connecticut Democrat argued that "there's no reason to let up at this point on a strategy that seems to be having results."
As CNN's Lauren Fox reported, talks of a sanctions package in Congress have hit a snag, and it is more likely the Senate could pass a more generic resolution admonishing a potential Russian invasion.
Hawley argued the chamber passing such a resolution "doesn't really do any good" and blasted the Biden administration and Democrats for not being tough enough on Russia. 
Tuberville added that he believed sanctions should have been placed on Russia "months ago," but the situation now remains the same.
Bipartisan senators say they're still trying to hash out a sanctions package, but preemptive sanctions remain one of the points of contention.
"I think that there, our concerns are that if you put sanctions too early that you just might harden his position, and then there are people with the other view that we shouldn't put sanctions now," Sen. Mazie Hirono (D-HI) said. "My view is to possibly be cautious about it, but to make it very clear that we shouldn't pursue anything aggressive along the lines of what we have said is not acceptable, then we will bring sanctions."
58 min ago
Macron calls on Putin to not recognize independence of Ukrainian regions, according to Élysée Palace
From CNN's Joseph Ataman in Paris
French President Emmanuel Macron has asked Russian President Vladimir Putin "not to recognize the independence" of the breakaway Ukrainian regions of Donetsk and Luhansk, the Élysée Palace told journalists on Tuesday. 
"We remain vigilant and ask [Putin] not to follow up on the Duma's request," an Élysée spokesperson said. 
Ukrainian forces and Russian-backed separatists have been in conflict in the eastern Donetsk and Luhansk regions bordering Russia, an area known as Donbas, since 2014.
The State Duma, Russia's lower house, passed a bill on Tuesday asking Putin to consider recognizing Donetsk and Luhansk as sovereign and independent. 
"The Russian president said that it was a parliamentary initiative that he hasn't approved," the spokesperson added. 
Pressed on the matter by reporters on Tuesday, Kremlin spokesperson Dmitry Peskov gave a noncommittal response, adding that Russia has "repeatedly declared that it remains committed to the Minsk package of measures, and that Russia is in favor of the implementation of the entire Minsk plan as soon as possible."
50 min ago
Putin on whether Russia wants war: "Of course not"
From CNN's Anna Chernova in Moscow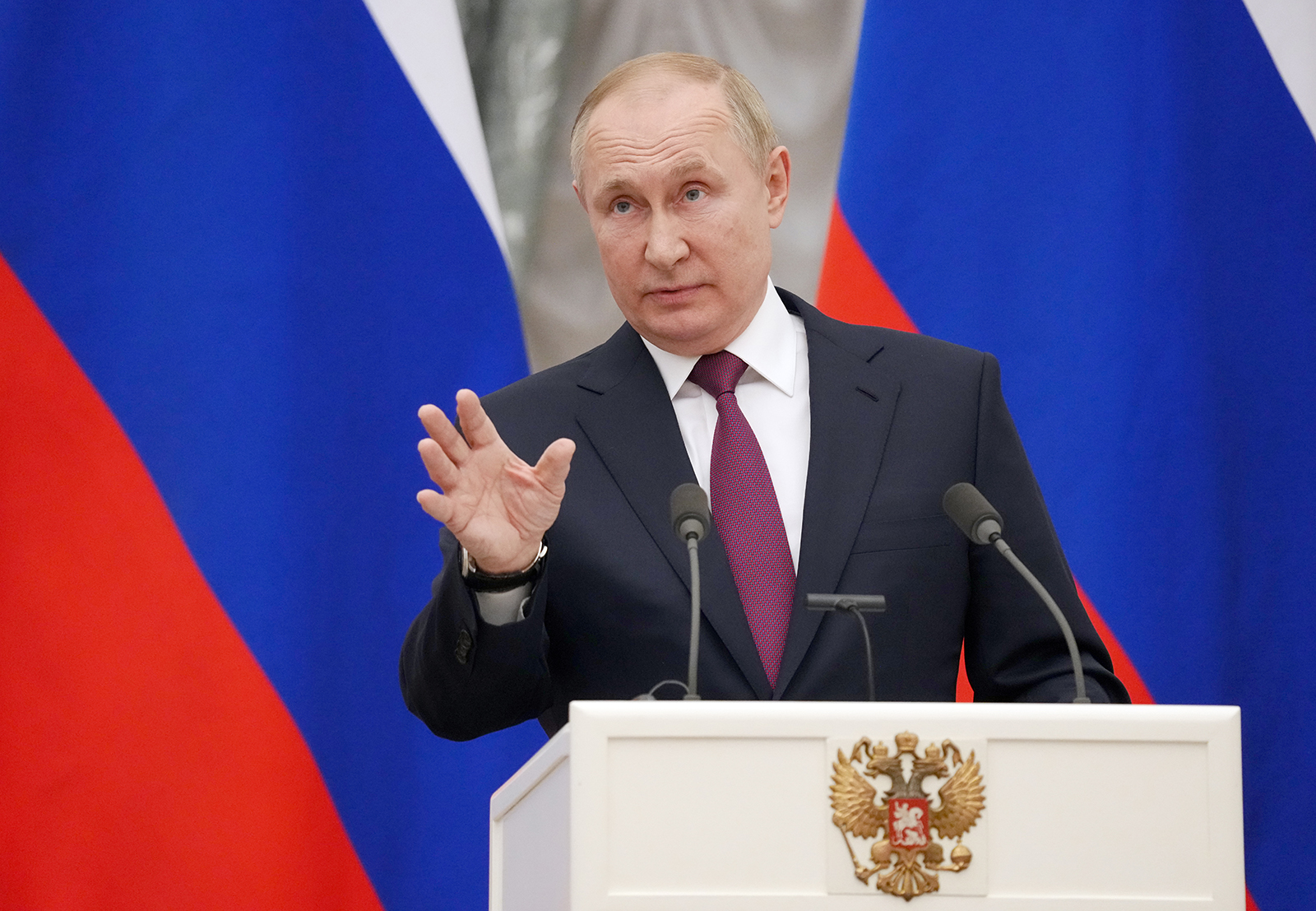 Despite military buildup at the Ukraine border, Russian President Vladimir Putin said Russia does not want war.
Asked in a joint press conference in Moscow Tuesday with German Chancellor Olaf Scholz if he would rule out a war in Europe, Putin said, "Do we want it or not? Of course not."
Putin added: "That's exactly why we put forward proposals on a negotiating process that should result in an agreement ensuring equal security for all, including our country."
Some more context: Russia announced Tuesday that some of its troops would return to base after completing recent drills, but stressed that major military exercises would continue.
The Russian defense ministry said troops from its Southern and Western military districts — parts of which are next door to Ukraine — had begun to return to their home stations, though the announcement did not say precisely where those troops were permanently based, where they had been exercising, or how many of them were withdrawing.
The announcement was met with skepticism by the Ukrainian foreign minister, who said he would believe it when he saw it.
Russia has amassed more than 130,000 troops near Ukraine's border in recent weeks, according to US estimates, raising fears from Western and Ukrainian intelligence officials that an invasion could be imminent.
1 hr 35 min ago
US secretary of state spoke with Russian counterpart, according to official
From CNN's Kylie Atwood
US Secretary of State Antony Blinken spoke on the phone with Russian Foreign Minister Sergey Lavrov on Tuesday morning, according to a senior State Department official. When the two spoke over the weekend, they agreed to stay in touch, the official said. 
Their conversation came as Russia claimed that some troops are being pulled back from the Ukrainian border. But US officials say they will only believe that when they see proof. 
"What's important is that we try to verify based on the fact that we've seen other instances in the past where Russia has claimed to be de-escalating and in fact, facts on the ground didn't prove that to be true," Ambassador Julianne Smith, US permanent representative to NATO, said earlier today. 
As of this morning, the US has still not received a written response from Russia on Ukraine after the US gave Russia a written response almost three weeks ago. 
1 hr 43 min ago
Biden will speak with French President Macron today, source says
From CNN's Kevin Liptak
US President Joe Biden plans to speak with French President Emmanuel Macron again today, according to a person familiar.
They spoke last week as Macron works to advance diplomacy with Russia.
Macron spoke to Russian President Vladimir Putin on Saturday for 1 hour and 40 minutes. According to the Kremlin, the two had an "in-depth exchange of views" during the call. They discussed "conditions for security and stability in Europe," Élysée Palace said.
2 hr 7 min ago
Putin calls deterrence of Russia by the West a "threat," but adds Russia is ready for "negotiation track"
From CNN's Nathan Hodge and Anna Chernova in Moscow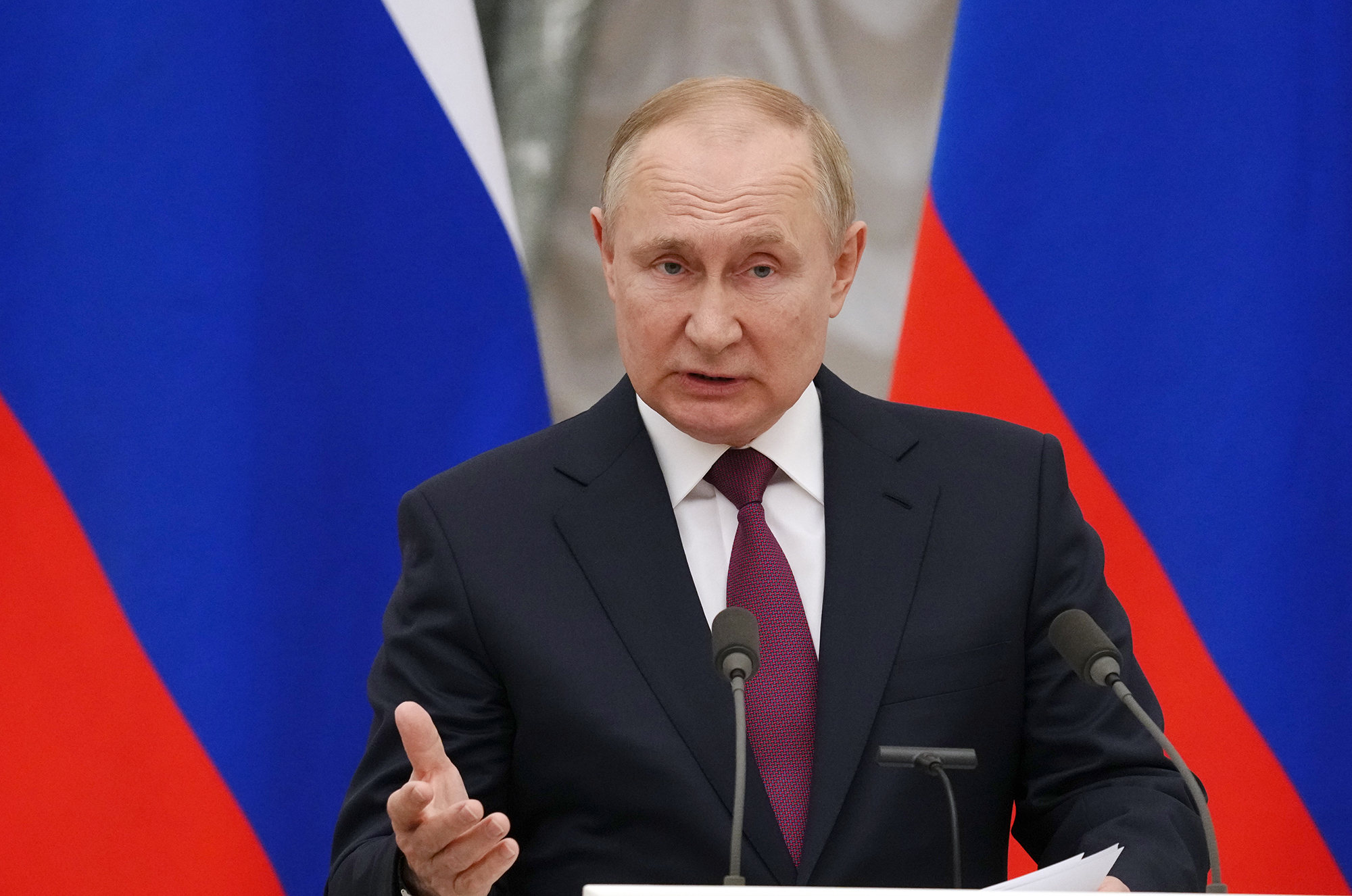 Russian President Vladimir Putin called Western deterrence of Russia a "direct and immediate threat," saying once again the United States and North Atlantic Treaty Organization had not satisfied Russia's security concerns.
Speaking at a press conference with German Chancellor Olaf Scholz, Putin said: "We view the deterrence of Russia by force as a direct and immediate threat to national security, which the legal agreements of the draft projects submitted by us are designed to remove."
Putin was referring to security demands by Russia, to which the US and NATO have responded in written form. 
"The responses we received from the United States and NATO members to security guarantees proposals, in our opinion, do not meet the three basic Russian requirements mentioned above," Putin said. "However, as the minister of foreign affairs of the Russian Federation told me yesterday, the provided responses contain a number of proposals that we are not just open to discussing, but in fact we have proposed them to our partners in previous years: proposals on European security issues, on certain weaponry issues, i.e. intermediate and short-range missiles, and on military transparency."
Putin added: "We are ready to continue this joint work further. We are also ready to follow the negotiation track but all issues must be considered as a whole, without being separated from the main Russian proposals, the implementation of which is an unconditional priority for us."
2 hr 6 min ago
US stock market jumps after Russia says it's withdrawing some troops
From CNN's Matt Egan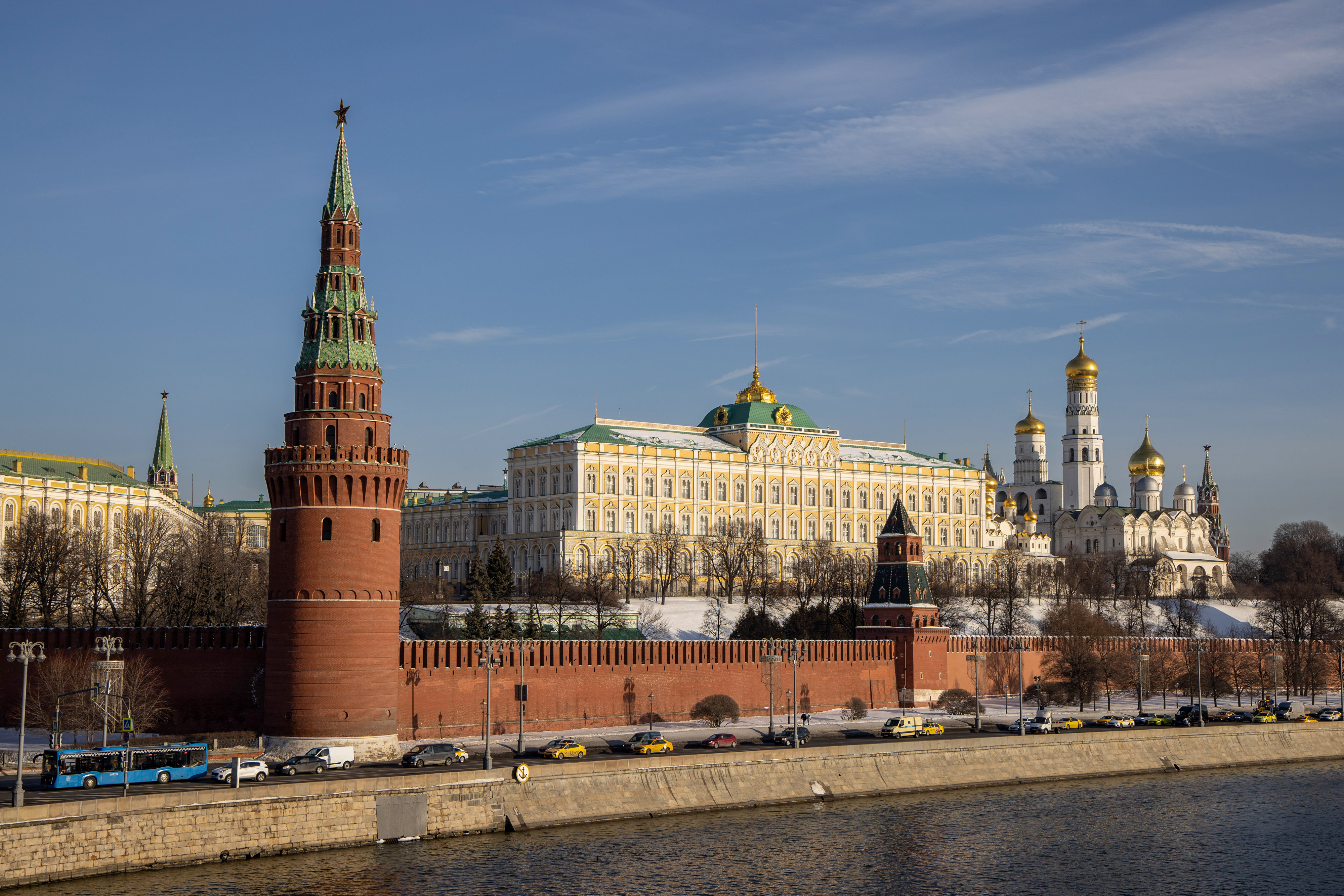 Wall Street's Russia-Ukraine fears eased Tuesday morning after Russia announced it is withdrawing some troops following the completion of recent drills near Ukraine. 
The Dow jumped about 280 points, or 0.8%. The S&P 500 surged 1% and the Nasdaq was 1.5% higher.
Investors have been concerned that an armed Russian conflict with Ukraine could badly damage the global economy. A war could send prices surging in regions that have already been struggling with rapidly rising inflation, especially as energy supplies could be disrupted in the middle of a conflict. Russia is a major exporter of oil and particularly natural gas.
US oil futures tumbled about 3.5%. That's despite the fact that Russia stressed Tuesday that major military exercises would continue. 
The market reaction to signs of potential de-escalation is the latest example of investors hanging on nearly every headline emerging from the crisis.
The Dow and S&P 500 have declined three days in a row, including a drop on Monday that came after the State Department announced the closure of the US embassy in Kyiv.
US oil prices jumped above $95 a barrel Monday for the first time since 2014 on concerns about the Russia-Ukraine conflict. However, crude reversed course Tuesday morning, falling to $92 a barrel.