11 min ago
Zelensky asked Israeli PM to mediate negotiations with Russia, Ukrainian ambassador to Israel says
From CNN's Hadas Gold in Jerusalem
Ukrainian President Volodymyr Zelensky asked Israeli Prime Minister Naftali Bennett to host and help mediate negotiations between Ukraine and Russia, Ukraine's ambassador to Israel told CNN.
"Our president believes Israel is the only democratic state that has great relations with both Russia and Ukraine and that could be used in order to facilitate those negotiations," Yevgen Korniychuk told CNN Friday evening.
Korniychuk said Jerusalem is preferable to Minsk where previous talks took place because Belarus is a close ally of Russia, and Ukraine does not "believe in the legitimacy" of Belarus' current leader Alexander Lukashenko.
"(We) definitely need to change the venue and we believe Jerusalem could be a good place for that," Korniychuk said.
As for the Israeli response to the request, Korniychuk said they "neither agree or deny it, they're considering it, and that's a positive sign."
A spokesperson for Bennett would not comment further beyond the official read out issued about the call, which made no mention of the mediation request.
13 min ago
Ukrainian President confirms Russian forces are advancing on Kyiv from the north and east
From Tim Lister
Ukrainian President Volodymyr Zelensky says Russian forces are closing in on Kyiv, advancing on the capital from the north and the east.
In his late-night video message Friday, Zelensky told Ukrainians:
"Our main goal is to finish this slaughter. The enemy losses are very grave — today there were hundreds of killed soldiers who crossed our border and came on our land."
Zelensky added, "unfortunately, we also suffer losses. Ukrainians resist the Russian aggression heroically. This aggression cannot be justified, so the occupiers have to come up with more absurd accusations to say at least something."
After taking an airbase just north of the city on Thursday, Russian forces are now close to the capital of Kyiv. They are also advancing along two routes from the north and at least one from the east.
11 min ago
Russia blocks UN Security Council resolution condemning invasion of Ukraine
From CNN's Richard Roth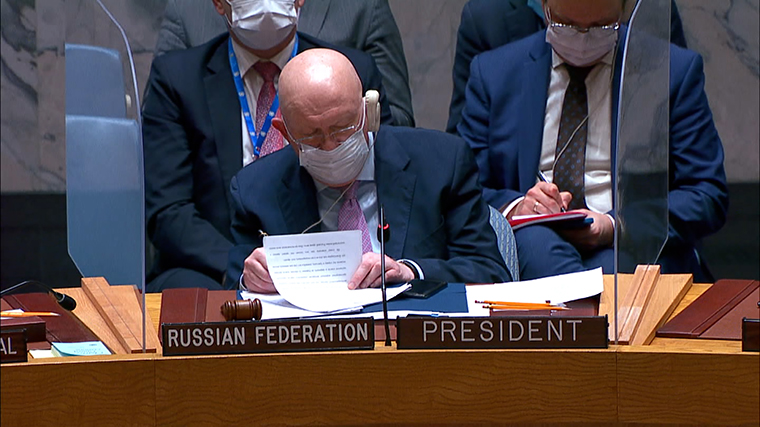 Russia has used its veto power to block a United Nations Security Council resolution condemning its invasion of Ukraine. 
The vote was 11 in favor, one against, and three abstentions. China, which has declined to criticize Russia's attack, was among the abstentions at the United Nations' headquarters in New York City on Friday. 
Russia is a permanent member of the UN Security Council. Russian Ambassador to the UN, Vassily Nebenzia, is currently serving as this month's council president. 
33 min ago
Zelensky says he agreed to "more help, more support" from world leaders
From CNN's Tim Lister in Kyiv
Ukrainian President Volodymyr Zelensky said Friday that he talked with a number of world leaders, and agreed to "more help" amid Russia's invasion.
Zelensky specifically said he talked with President Biden as well as the French, German and Dutch leaders.
"And I've agreed on more help, more support, considerable support. I thank all the leaders and especially the President Biden," he said.
36 min ago
Ukrainian president: "This night will be very difficult"
From CNN's Tim Lister
Ukrainian President Volodymyr Zelensky addressed his country Friday night, saying, "This night will be very difficult, and the enemy will use all available forces to break the resistance of Ukrainians."
Zelensky advised that "we have to stand ground," adding, "the fate of Ukraine is being decided right now."
As part of his late-night message, Zelensky told Ukrainians:
"It was a difficult but courageous day. We are fighting for our country on all frontlines: in the South, East, North, in many cities of our beautiful country."
Zelensky went on to say that Ukraine is, "also fighting on the diplomatic frontline."
"It's easier to count who out of the world leaders I haven't spoken yet," he said.
38 min ago
Canadian prime minister announces sanctions on Vladimir Putin
From CNN's Raja Razek
Canada's Prime Minister Justin Trudeau announced Friday a set of sanctions on Russia, which include imposing sanctions on Russian President Vladimir Putin, his chief of staff, and Foreign Minister Sergey Lavrov. 
"Canada is announcing our third set of severe, coordinated sanctions," Trudeau said. "First, we will be imposing sanctions on President Putin and his fellow architects of this barbaric war, his chief of staff and Foreign Minister Sergey Lavrov."
"Additionally, I am confirming Canada's support to remove Russia from the SWIFT payment system, a critical part of the global banking system," he added. 
Excluding Russian banks from SWIFT, a high security network that connect thousands of financial institutions around the world, "would make it even more difficult for President Putin to finance his brutalities," according to Trudeau. 
"Canada is also announcing that we will levy additional sanctions on Belarus and its leaders for abetting President Putin's invasion of a free and sovereign nation," he said. 
According to Trudeau, these sanctions will target 57 people and are in addition to the "dozens of existing strong sanctions already leveled against Alexander Lukashenko's regime for their repeated, systematic human rights violations and decades of oppression of their own people."
All this comes after Russia's assault on Ukraine, which began on Thursday and has spread across the country. Russian forces have attacked by land, sea, and air, and are currently battling for control of Ukraine's capital, Kyiv.
44 min ago
Ukrainian staff of US embassy in Kyiv asks US for help: "There is no safe place in Ukraine anymore"
From Jennifer Hansler
The locally employed Ukrainian staff of the US embassy in Kyiv sent a letter to the US State Department Thursday asking for "immediate answer and action" on issues such as evacuating the country and securing visas to the US "as there is no safe place in Ukraine anymore."
The letter — sent on behalf of hundreds of locally employed staff and seen by CNN — said staff had not received adequate answers or communication from the State Department. 
"Today (Locally Employed) Staff were waken up by the sound of exploding bombs in multiple cities around Ukraine. Situation is critical, and our questions remain unanswered," they wrote in the letter, which was first reported by Foreign Policy. 
"We have worked side by side with you for two decades, and always had strong faith in the work US Government was doing. We need your help now. This is not a time to wait and research. This is time to act. Your actions can save our lives," they wrote.
State Department spokesperson Ned Price said Friday the department had received the message and was exploring options to support the staff, and said they had "already taken some important steps."
As the threat of a Russian invasion loomed, the State Department drew down the number of US employees at the embassy in the Ukrainian capital to only a small team. That team was then relocated to Lviv, a city in the west of the country, and has now been moved to Poland in the wake of the Russian attack.
But the Ukrainian staff were not included in those moves, and the sense of neglect suggested in the letter resembles that felt by locally employed staff of the US Embassy in Afghanistan. As Kabul fell to the Taliban and the US all diplomats and forces from the country, Afghans who had worked for the Embassy were left to make their own perilous journey to the airport to be evacuated.
56 min ago
The Nord Stream 2 was halted earlier this week. Here's what that means — and why it matters.
From CNN's Angela Dewan, Charles Riley, Julia Horowitz and Bianca Nobilo
Earlier this week, ahead of Russia's invasion into Ukraine, Germany halted certification of the Nord Stream 2 gas pipeline.
Completed in September, the Nord Stream 2 is a 750-mile pipeline that could deliver 55 billion cubic meters of gas per year.
However, the pipeline may also serve as the centerpiece to the Russia-Ukraine conflict.
By halting the project, the West has signified it's ready to target Russia's energy industry, even if it comes at a cost.
To further understand the significance of this decision — and what specifically the Nord Stream 2 project was aiming to accomplish — watch the following TikTok video from CNN's Bianca Nobilo.
1 hr 11 min ago
All US senators will have a classified briefing on the Ukraine invasion on Monday
From CNN's Hill Team
There will be an all-senators classified briefing on the Russia invasion of Ukraine at 7:15 p.m. ET Monday, according to a Senate aide.
Who will give the briefing is to be announced.