1 hr 53 min ago
They tried to reveal what life was like under Russian occupation. Then they disappeared
From CNN's Eliza Mackintosh and Yuliia Presniakova
When there was a knock on Yulia Olkhovska's front door at 5:30 a.m., she knew who would be waiting for her in the pre-dawn darkness outside. But she was still terrified.
Ever since Russia invaded Ukraine, rolling tanks into several small cities in the country's southeast, including her hometown Melitopol, there had been a steady, grim drumbeat of disappearances.
Journalists like herself, as well as activists, politicians, public figures and residents in Russian-occupied areas were being picked up off the street and snatched from their homes. She had conferred with her husband in hushed tones about what to do if they came for her; the pair decided they would try to remain calm.
So when five armed men in military uniform turned up at her house in the suburbs of Melitopol on March 21, she took a deep breath and let them in. After carrying out a room-by-room search, startling their sleeping teenage daughter and four cats, the Russians told Olkhovska to come with them.
Read what happens to Olkhovska and other Ukrainians here: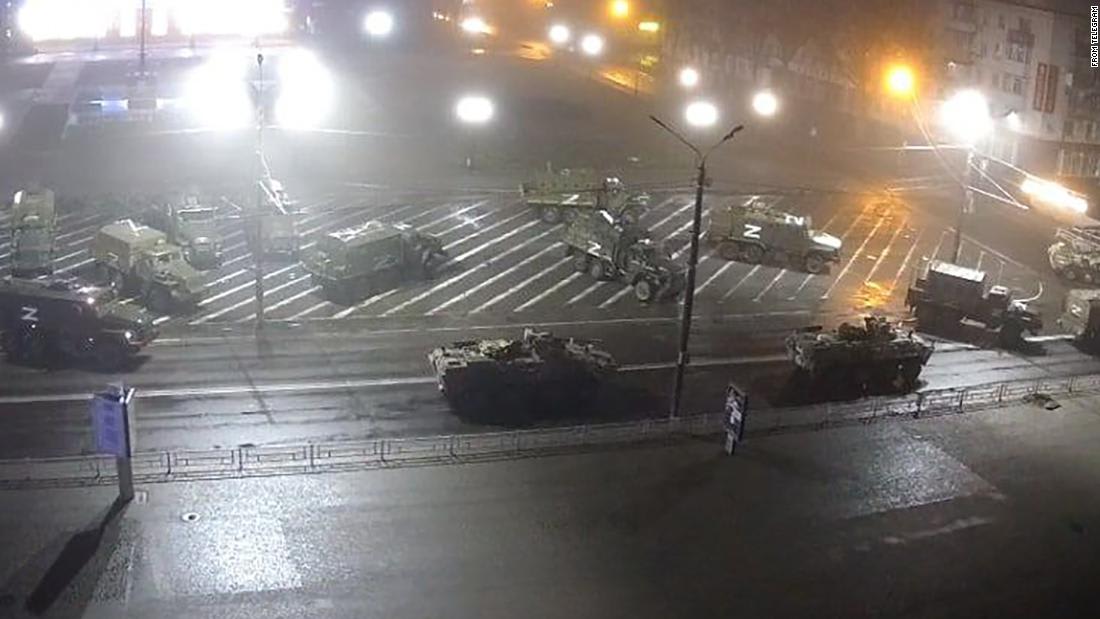 2 hr 26 min ago
It's 7 a.m. in Kyiv. Here's what you need to know
With Russia's troops stalled in many parts of Ukraine, delegations from both countries are set to resume in-person talks today in Istanbul.
Here's the latest:
Talks in Turkey: The latest round of Russia-Ukraine negotiations will be held in-person in Istanbul on Tuesday, according to Russian and Turkish authorities. Russia's Foreign Minister said Moscow hoped the meeting "would achieve our fundamental goals." The last round of talks was held virtually two weeks ago, following earlier face-to-face negotiations in Belarus.
Stalled progress: Russian forces are largely stalled in several parts of Ukraine, including around Chernihiv, Mykolaiv and Kharkiv, according to a senior US defense official. Troops have "made no progress in moving towards Kyiv," though fighting continues on the outskirts of the capital.
Evacuations under threat: Russian forces have consolidated control around the southeastern port city of Mariupol, with evacuation corridors largely under their control, according to the city's mayor. Weeks of bombardment have devastated the city and killed an unknown number of civilians. Those who remain are living without heat, electricity or water. "We are in the hands of the occupiers," the mayor said Monday, calling for a complete evacuation of all residents.
The nuclear question: In a PBS interview Monday, a Kremlin spokesperson ruled out Russia using nuclear weapons in Ukraine, saying Moscow would only use them if there was a threat to the country's existence.
Biden on Putin: The US President on Monday refused to walk back remarks about Vladimir Putin, but clarified it was an opinion, not a change in official policy. On Saturday, Biden made an improvised comment that his Russian counterpart "cannot remain in power" — which sent the White House into clean-up mode over the weekend.
Refugees flee: More than 3.8 million people have fled Ukraine since the war began, according to the United Nations — and half of them are children.
2 hr 21 min ago
Propaganda video with Russian troops claims Melitopol is no longer a Ukrainian city
From CNN's Paul P. Murphy, Yulia Shevchenko and Josh Pennington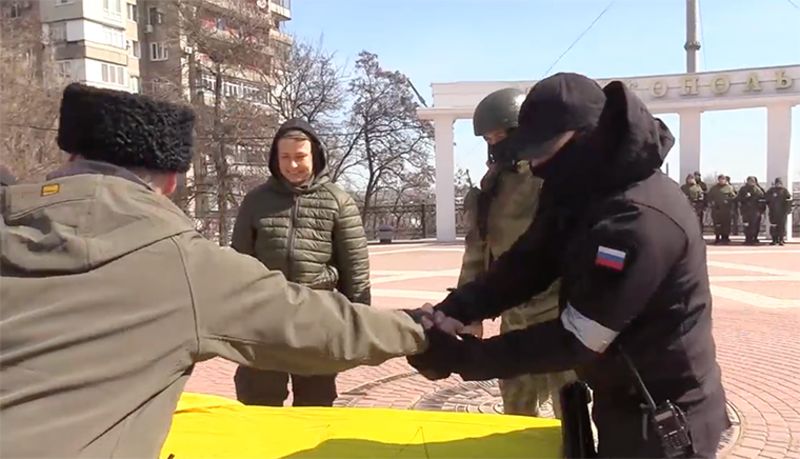 Russian troops and armed individuals recently took part in a propaganda video that suggests Melitopol is no longer part of Ukraine.
The video was published in a pro-Russian "news" Telegram channel for Melitopol, a city located in the southern portion of Ukraine and occupied by Russia since the first days of the invasion.
In the video, the armed individuals and Russian troops are seen writing on a Ukrainian flag in Melitopol's central square. A large Ukrainian flag that flew over the square was taken down on March 14.
The troops and armed individuals were seen on the video writing on the flag, "From the Ministry of Defense of the Russian Federation … the Russian National Guard … the people's militia … the Cossacks." The flag is then seen being taken to the post office and claimed to have been sent to Ukrainian President Volodymyr Zelensky.
A "Z" and "V" are also written on the flag, which are markings seen on Russian military vehicles participating in the invasion.
57 min ago
Russian-installed government ramps up efforts to restore normalcy in Melitopol
From CNN's Paul P. Murphy, Yulia Shevchenko and Josh Pennington
The Russian-installed government in the occupied Ukrainian city of Melitopol is trying to move on with daily life as the invasion rages nearby, including restarting schools.
Russian-installed mayor Galina Danilchenko also said that power would be restored to a nearby captured Ukrainian air force base in a video message published on Melitopol's Russian-installed government's Telegram channel. 
But Ivan Fedorov, Melitopol's elected mayor, claimed that to reopen the schools, the government drummed up embezzlement charges against the city's education chief, Irina Shcherbak.
Fedorov claimed the charges were brought up because Shcherbak "refused to cooperate with them," he said on Instagram.
It's not the first time a Melitopol elected official was detained or had charges brought against them during the Russian occupation. 
When the Russians installed Danilchenko as Melitopol's new mayor on March 11, she immediately dissolved the elected government and mandated that Russian news be broadcast.
Fedorov himself was detained earlier this month by armed men and then charged with terrorism offenses by the Russian-backed rebels prosecutor's office in the Luhansk region. He was later freed as part of a prisoner swap.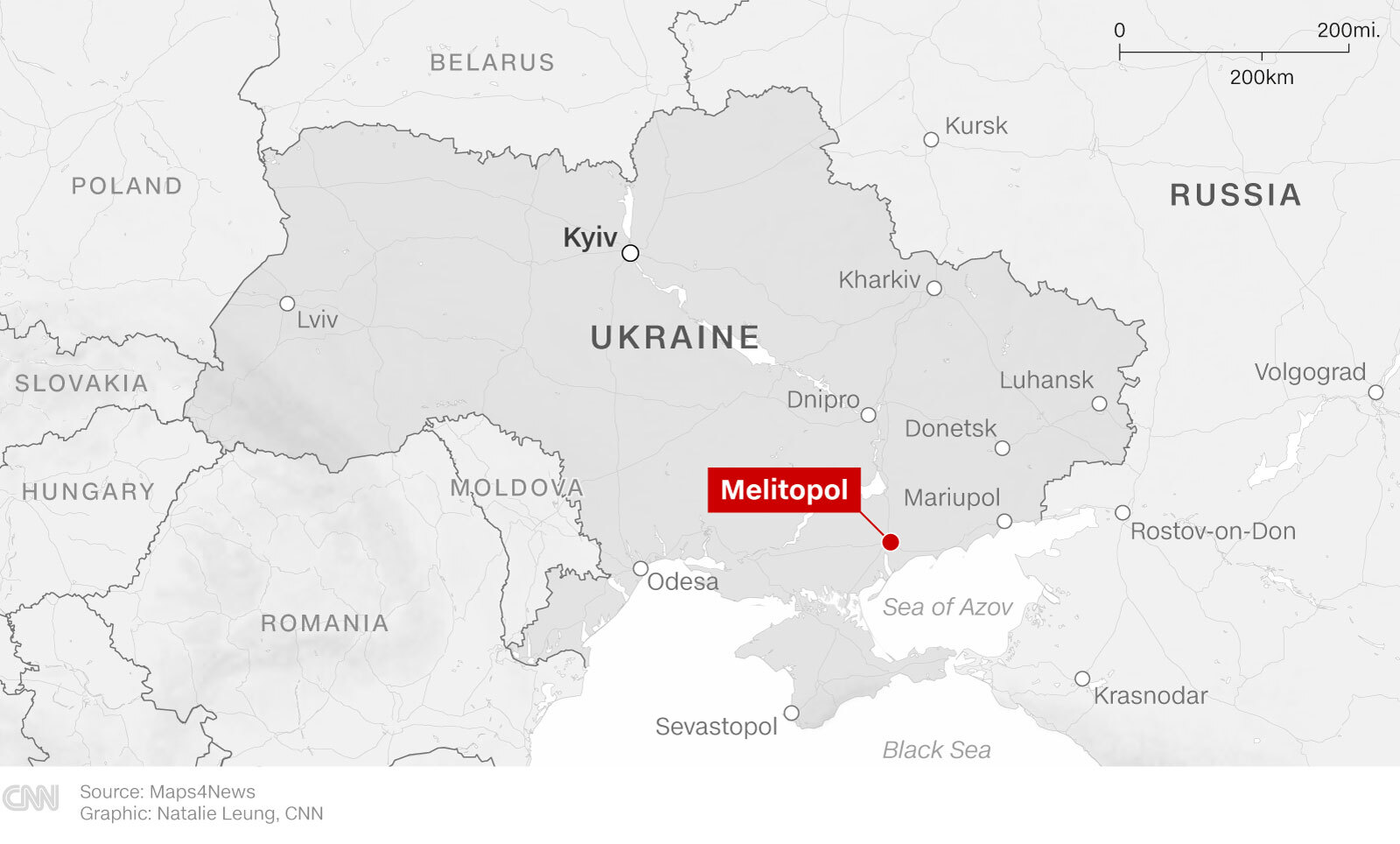 Fedorov also claimed on Instagram that the Russians have cut off all cell phone communications in Melitopol. Danilchenko in a video message claimed it was the Ukrainians who had cut off communications. 
Melitopol is located in southern Ukraine, between the besieged city of Mariupol and Russian-occupied Kherson.
2 hr 3 min ago
Kremlin spokesman: Russia would only use nuclear weapons when there is a threat to the country's existence
From CNN's Sophie Jeong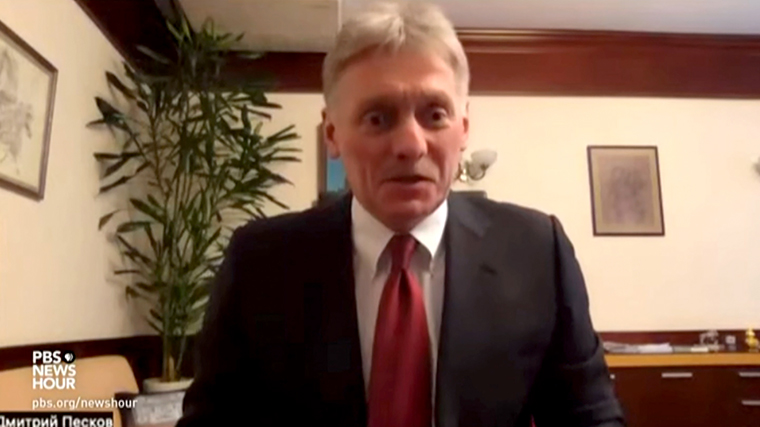 Russia would only use nuclear weapons when there is a threat to the country's existence — and not as a result of the ongoing war in Ukraine, Kremlin spokesman Dmitry Peskov told PBS Newshour in an interview Monday.
"Any outcome of the operation (in Ukraine), of course, is not a reason for usage of a nuclear weapon," Peskov said. "We have a security concept that very clearly states that only when there is a threat for existence of the state, in our country, we can use and we will actually use nuclear weapons to eliminate the threat for the existence of our country."
When asked about US President Joe Biden's comments calling Vladimir Putin a "butcher" and declaring the Russian President should no longer remain in power, Peskov said "it is quite alarming."
"It is personal insult," Peskov said. "Of course, it is completely unacceptable. It is not for the United States' President to decide who is going to be and who is the president of the Russian Federation."
Some context: At an address in Poland on Saturday, Biden made an improvised comment — "For God's sake, this man cannot remain in power" — that caught American and international officials off-guard, sending the White House into clean-up mode over the weekend.
Civilian targets denial: In the PBS interview, Peskov denied that Russian forces had deliberately targeted civilians in Ukraine — despite Ukrainian forces, journalists, and refugees fleeing the country describing brutal bombardments striking civilian infrastructure including homes, schools, hospitals and more.
"They are not shelling houses. They are not shelling apartments. They are not shelling civil objects," Peskov said. "They are only shelling and they're aiming of military infrastructure."
The US officially declared last week that Russian forces had committed war crimes in Ukraine. The International Criminal Court in The Hague has also launched an investigation into the invasion.
2 hr 10 min ago
Incident on sidelines of talks left Abramovich and Ukrainian negotiators with minor skin peeling and sore eyes
From CNN's Matthew Chance and Katya Krebs in London
Russian billionaire Roman Abramovich and two Ukrainian peace negotiators suffered minor skin peeling and sore eyes during Ukraine-Russia talks "a few weeks ago" in Turkey, a source close to the Ukrainian negotiation team told CNN, adding the incident was not regarded as serious.  
Reuters on Monday cited an unidentified US official saying intelligence suggests Abramovich and the Ukrainian negotiators were sickened due to an environmental factor, not poisoning. "The intelligence highly suggests this was environmental," the official said.
It comes after the Wall Street Journal and investigative group Bellingcat reported on Monday that Ukrainian negotiators and Abramovich suffered from suspected poisoning earlier this month on the sidelines of talks aimed at ending the Russia-Ukraine conflict. The Wall Street Journal and Bellingcat reported the poisoning occurred during the sidelines of talks in Kyiv while a source close to the Ukrainian negotiation team told CNN the incident occurred on the sidelines of talks in Turkey.
A source close to the Office of Ukraine's Presidency, speaking to CNN on condition of anonymity, said of poisoning reports, "This is not true. Just another case of disinformation."
Ukrainian negotiator Mykhailo Podoliak did not outright deny the incident, saying instead that all Ukraine's negotiators were working as usual. Podoliak told CNN: "There is a lot of speculation, various conspiracy theories and elements of different information games in the media field now. Therefore, I repeat once again — the members of the negotiation group are working today in a regular mode."
A spokesperson for Abramovich would only say "No comments from us, thank you", when contacted by CNN on Monday. 
Abramovich, who was sanctioned earlier this month by the UK government along with other Russian oligarchs following Russia's invasion, has been acting as an intermediary between Russia and Ukraine, shuttling between Moscow, Kyiv, Istanbul, Warsaw and beyond amid a whirlwind of talks aimed at ending the conflict, his spokesman confirmed last month. 
Abramovich's role as interlocutor in Russia-Ukraine talks is not in an official capacity. He is not acting as part of a Russian delegation or as a Russian mediator. 
6 hr 16 min ago
Mariupol evacuation corridors "in the hands of the occupiers" as mayor tells everyone to leave
From CNN's Nathan Hodge and Julia Presniakova in Lviv
Ukrainian forces "continue to maintain circular defense" in the besieged city of Mariupol, the Ukrainian general staff said early Tuesday, even as Russian forces consolidated control around the southeastern port city.
On Monday, the mayor of Mariupol said evacuation corridors had come largely under the control of Russian forces, after weeks of bombardment left the city in pieces, killed an unknown number of civilians and forced hundreds of thousands of residents from their homes.
"Not everything is in our power," said Mayor Vadym Boichenko, in a live television interview. "Unfortunately, we are in the hands of the occupiers today."
Boichenko called for a complete evacuation of the remaining population of Mariupol, which was home to more than 400,000 people before Russia launched its invasion of Ukraine on Feb. 24.
"According to our estimates, about 160,000 people are in the besieged city of Mariupol today, where it is impossible to live because there is no water, no electricity, no heat, no connection," he said. "And it's really scary."
It was unclear if there was still active fighting inside the city.
Ukrainian officials have alleged that Russian forces have prevented humanitarian convoys from safely approaching or exiting the city.
Read more: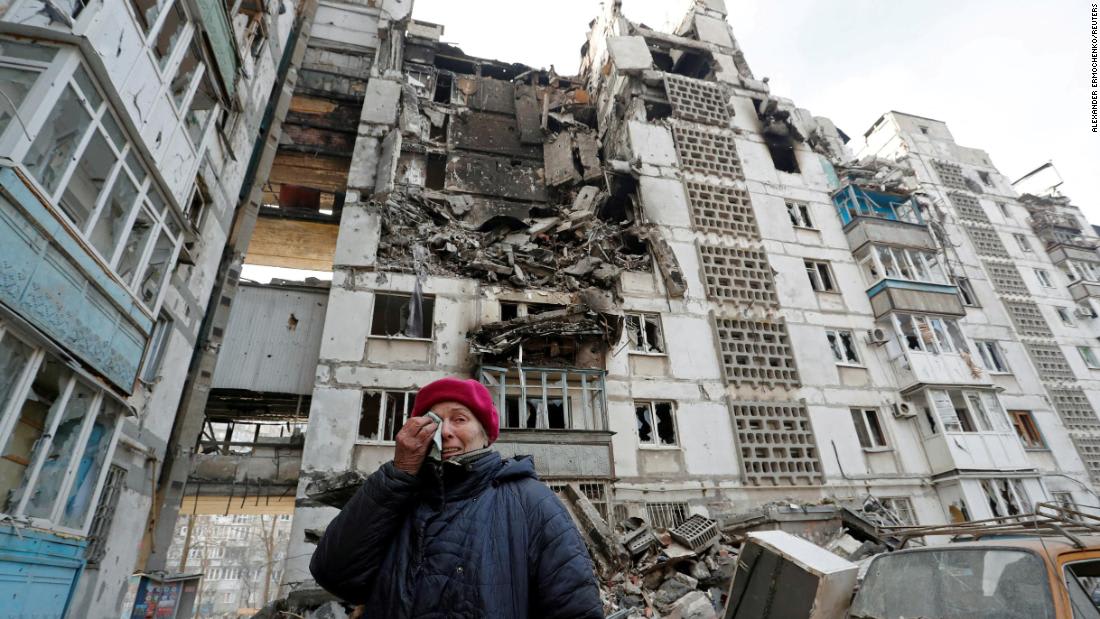 5 hr 56 min ago
Biden says he was "expressing outrage" with comments about Putin — but not making a policy change
From CNN's Maegan Vazquez, Kevin Liptak and Alex Marquardt
President Joe Biden reiterated on Monday that he was not announcing a change in US policy when he had said that Russian President Vladimir Putin "cannot remain in power" — a remark that caught American and international officials off-guard, sending the White House into clean-up mode over the weekend.
"I just was expressing my outrage. He shouldn't remain in power, just like, you know, bad people shouldn't continue to do bad things," Biden said in response to a question from CNN's Kaitlan Collins at the White House. "But it doesn't mean we have a fundamental policy to do anything to take Putin down in any way."
Two days after Biden's return from Europe, the improvised comment made at the end of an address in Warsaw about Putin — "For God's sake, this man cannot remain in power" — has hovered over the White House.
The White House and Biden have repeatedly tried to downplay the remark. The administration and allies say Biden wasn't calling for regime change to remove Putin from power. Rather, they argue that Biden was saying Putin cannot be allowed to exercise power over neighboring nations.
"I was talking to the Russian people," Biden said on Monday at the White House when asked by Collins why he ad-libbed the line.
"The last part of the speech was talking to Russian people," he said. "I was communicating this to, not only the Russian people but the whole world. This is … just stating a simple fact that this kind of behavior is totally unacceptable. Totally unacceptable. And the way to deal with it is to strengthen and keep NATO completely united and help Ukraine where we can."
Read more: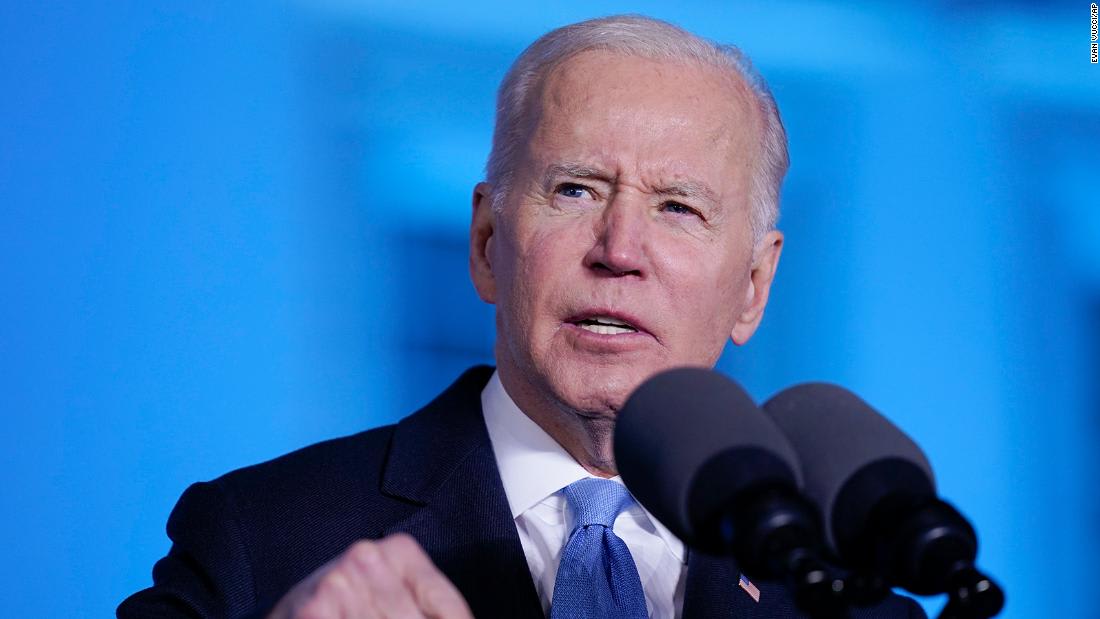 6 hr 29 min ago
Zelensky says Moscow is "frightened" after Kremlin bans his interview
From CNN's Nathan Hodge
Ukrainian President Volodymyr Zelensky has accused Moscow of being "frightened" by journalists "who can tell the truth" after the Kremlin attempted to prevent Russians seeing an interview he gave about the war in Ukraine.
Moscow's media watchdog Roskomnadzor issued a statement Sunday warning Russian news outlets against rebroadcasting or distributing the interview between Zelensky and some of Russia's most prominent independent journalists.
"Roskomnadzor warns the Russian media not to publish this interview," the agency said in its statement. "The media outlets conducting the interviews will be subject to scrutiny to determine the extent of responsibility and the appropriate response to be taken."
The journalists who interviewed Zelensky were Ivan Kolpakov from Meduza, a website based in Latvia, Vladimir Solovyov of Moscow newspaper Kommersant, Tikhon Dzyadko from recently shuttered channel TV Rain and the prominent writer Mikhail Zygar. Novaya Gazeta editor Dmitry Muratov, who won last year's Nobel Peace Prize, submitted questions for Zelensky ahead of the interview.
Some of the outlets that participated have been formally labeled as "foreign agents" by the Russian government, Roskomnadzor said in a statement on social media app Telegram. On Monday, Novaya Gazeta announced that it would stop publishing online and in print following a warning from the regulator.
During the interview, Zelensky harshly criticized Moscow but also discussed a potential deal to end the war. Ukraine is ready to accept neutral non-nuclear status, he said.
Zelensky said Sunday that Moscow was "frightened" by the truth.
"[They] destroyed freedom of speech in their state — [and are] trying to destroy the neighboring state. They portray themselves as global players. And they themselves are afraid of a relatively short conversation with several journalists," he said during a video address.
"Well, if there's such reaction — then we are doing everything right. [It] means they are nervous," added Zelensky.
Kremlin spokesperson Dmitry Peskov told CNN Monday that Russia was not afraid.
"We have laws in ​place, and it is very important not to publish information that would amount to a violation of these laws," Peskov added.
Moscow has cracked down on independent media in the weeks after President Vladimir Putin ordered the invasion of Ukraine, and many Russian journalists have left their home country. Access to foreign media such as the BBC has been restricted.
Russian lawmakers have also criminalized the spread of "fake" information that discredits the Russian armed forces or calls for sanctions against the country.