1 min ago
White House says it is monitoring Ukrainian nuclear power plant
From CNN's Kaitlan Collins
A White House official says they are monitoring the Zaporizhzhia nuclear power plant, where Ukrainian officials say a fire has broken out as Russian troops attack "from all sides."
19 min ago
Ukraine foreign minister: Russian army is "firing from all sides" on Zaporizhzhia nuclear power plant
The Russian army is "firing from all sides upon Zaporizhzhia nuclear power plant, the largest nuclear power plant in Europe," Ukraine's Foreign Minister Dmytro Kuleba tweeted on Friday.
"Russians must IMMEDIATELY cease the fire, allow firefighters, establish a security zone!" Kuleba said.
The mayor of the town of Energodar said earlier that firefighters are unable to reach the fire, which is ongoing.
23 min ago
Firefighters unable to reach fire at Zaporizhzhia nuclear plant
From CNN's Jonny Hallam
Firefighters are unable to reach the fire at the Zaporizhzhia nuclear power plant, according to the mayor of the nearby town of Energodar, Dmytro Orlov, in a Facebook post.
"The Zaporizhzhia Power Plant is notifying of a threat at the first block of the power plant! The fire at the plant is continuing. The firefighters cannot reach the location of the fire," he posted.
Earlier, the mayor posted to Facebook saying: "Intense fighting is ongoing on approach routes to the Zaporizhzhia nuclear power plant. Our National Guard fighters are defending. There are victims, but the exact number and condition so far cannot be determined under the circumstances."
24 min ago
Fire breaks out at nuclear power plant in Ukraine 
From CNN's Hira Humayun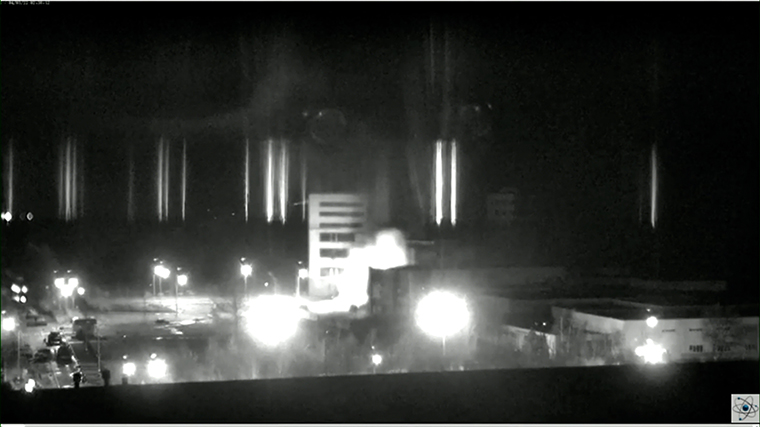 The Zaporizhzhia nuclear power plant in Ukraine is on fire, according to Dmytro Orlov, the mayor of the nearby town of Energodar.
"A threat to world security!!! As a result of relentless shelling by the enemy of the buildings and blocks of the largest nuclear power plant in Europe, the Zaporizhzhia nuclear power plant is on fire!!!" Orlov posted to Facebook. 
"I demand, stop! Immediately stop shelling the Zaporizhzhya nuclear power plant point blank," the mayor said in a video message.
In an earlier post he wrote, "stop shelling the Zaporizhzhia power plant".
4 min ago
It's just past 3 a.m. in Kyiv. Here's where things stand on the Ukraine crisis.
From CNN's Tim Lister, Olga Voitovych, Laura Smith-Spark, Betsy Klein, Nadine Schmidt , Ryan Bergeron and Niamh Kennedy
Russia has ramped up its assaults in key Ukrainian cities as Ukraine's President Volodymyr Zelensky pleads for more international assistance and called on NATO to establish a no-fly zone over Ukraine.
It's just past 3 a.m. ET in the Ukrainian capital. If you're just reading in now, here's where things stand:
Nuclear plant on fire: Moments ago, an official reported that Ukraine's Zaporizhzhia nuclear power plant is on fire.
So far, Firefighters are unable to reach the fire according to Dmytro Orlov, the mayor of the nearby town of Energodar.
Talks between Ukraine and Russia end with no breakthrough: A Ukrainian negotiator on Thursday said that a second round of talks with Russia didn't deliver any results that Ukraine needed.
"Unfortunately, the results Ukraine needs are not yet achieved. There is a solution only for the organization of humanitarian corridors," senior Ukrainian official  Mykhailo Podolyak said in a tweet after the talks ended.
However, humanitarian corridors for civilians were agreed on during talks.
Key cities under assault: Russia is laying siege to the key Ukrainian city of Mariupol. Mariupol's deputy mayor Sergei Orlov told CNN the southeastern city was "surrounded" by Russian forces and was in desperate need of military and humanitarian aid.
"Our Ukrainian army and National Guard is very brave, they stand and fight for Ukraine, for Mariupol. But the situation is quite critical," Orlov said Thursday.
In northeast of Ukraine, 34 civilians were killed by Russian attacks on the Kharkiv region within a 24 hour period, emergency services announced Thursday morning.
Russian troops are advancing toward Odessa, the strategically significant city on the country's southern coast.
Growing humanitarian crisis: The Russian invasion has sparked a need for humanitarian aid. Food and supplies inside the country are becoming increasingly scarce. Organizations are on the ground in Ukraine and neighboring countries to help with shelter, food, water, and additional aid.
The United Nations estimates that more than 10 million people may end up fleeing their homes in Ukraine, including four million who may cross the border into neighboring countries, according to a statement.
International response: US President Joe Biden announced additional sanctions against Russian oligarchs on Thursday.
The new list of individuals described as "Putin's cronies and their family members" will be cut off from the US financial system, their assets in the US will be frozen, and their property will be blocked from use, according to a fact sheet from the White House.
There will be full blocking sanctions on eight Russian elites, plus their family members and associates.
The European Union will grant temporary protection to all refugees fleeing the conflict in Ukraine, according to the bloc's Commissioner for Home Affairs Ylva Johansson.  
Germany must freeze assets of Russian oligarchs immediately as part of sanctions on Moscow for its invasion of Ukraine,German Economy Minister Robert Habeck urged on Thursday.
1 hr 20 min ago
US Pentagon official praises Ukraine forces: "They are fighting very creatively"
From CNN's Jason Kurtz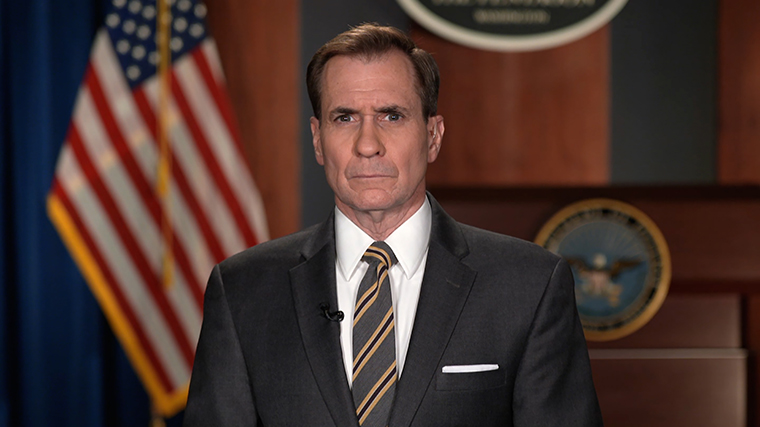 Pentagon Press Secretary John Kirby commended the effort Ukrainian forces are putting forth as the Russian invasion continues.
"They are fighting bravely in the streets, and outside their cities, and they are fighting very creatively," Kirby said while speaking live with CNN's Wolf Blitzer.
As for the Russian convoy that has seemingly stalled outside of Kyiv, Kirby said he feels that Russia remains focused on completing a siege of the capital city.
"As of this morning, we still assessed that the advance of the Russian forces was still about 25 kilometers from the city center, but they are trying to close in," he said. "They are still outside the city, but we still believe that their intent is to try to encircle Kyiv, and ultimately occupy it."
Despite Russian President Vladimir Putin saying the invasion is "going according to plan," Kirby offered a different assessment.
"The Russians have been flummoxed, they've been frustrated, they have been set back, they have been slowed by a stiff and determined Ukrainian resistance. We also believe that they have stumbled themselves," he said. "They're having logistic and sustainment problems. They're running out of fuel, they're running out of food for some of their soldiers. They have been surprised by the manner in which, and the effectiveness, with which the Ukrainians have been defending their cities, and their people."
1 hr 38 min ago
Biden administration giving interviews to Russian-language news outlets to counter Kremlin disinformation
From CNN's Kylie Atwood
Senior Biden administration officials have done at least seven interviews with Russian-language news outlets in recent days as part of an effort to counter the Kremlin's disinformation about the Ukraine crisis and speak directly to a Russian audience, US officials explained.
State Department under secretary for political affairs Victoria Nuland did an interview with Echo of Moscow Radio today, the day after the Kremlin took the radio station off the airwaves. The State Department reached out to the outlet to propose the interview, according to a US official, and it was aired on the radio's YouTube channel. And the day before the outlet was shut down, State Department spokesperson Ned Price did an interview with the outlet.  
The department will continue to support these outlets even after the Kremlin bans them, as an effort to keep their work relevant, US officials said. Top Biden administration officials are also aggressively calling out the Kremlin for cracking down on the media. 
"The Kremlin right now is engaged in a full assault on media freedom and the truth," White House press secretary Jen Psaki said Thursday, saying the White House is "deeply concerned" about those steps.
She cited restricted access to independent news networks Echo of Moscow and TV Rain, as well as threats to block online platforms including VOA Russia. 
Price said on Wednesday night that the "Kremlin is engaged in a full assault on media freedom and the truth, and Moscow's efforts to mislead and suppress the truth of the brutal invasion are intensifying."
2 hr 33 min ago
Biden administration extends immigration relief to Ukrainians in the US
From CNN's From Priscilla Alvarez and Lauren Fox
The Department of Homeland Security will allow Ukrainians who are in the United States to remain in the country under a form of humanitarian relief.
The relief – known as Temporary Protected Status, or TPS – applies to people who would face extreme hardship if they were forced to return to homelands devastated by armed conflict or natural disasters. As such, these protections are limited to people already in the United States. DHS secretary has the discretion to designate a country for TPS.
"Russia's premeditated and unprovoked attack on Ukraine has resulted in an ongoing war, senseless violence, and Ukrainians forced to seek refuge in other countries," DHS Secretary Alejandro Mayorkas said in a statement announcing the move. "In these extraordinary times, we will continue to offer our support and protection to Ukrainian nationals in the United States."
Some 30,000 Ukrainians on visas could benefit from this protected status, according to the Migration Policy Institute, a non-partisan think tank. Extending TPS to Ukrainians who have been issued temporary visas would shield them from deportation when those visas expire. Individuals must have continuously resided in the US since March 1 to be eligible. The TPS designation will be in place for 18 months. 
US President Joe Biden's administration has been under pressure from Democratic and Republican lawmakers, along with immigrant advocates, to provide protections to Ukrainians in the US who can't return to war-torn Ukraine.
In a letter to President Biden this week, a bipartisan group of senators urged the administration to extend the relief, writing: "Forcing Ukrainian nationals to return to Ukraine in the midst of a war would be inconsistent with America's values and our national security interests."
Ukraine joins a list of 12 countries — including South Sudan and Venezuela — that have also been designated for TPS.
In a live CNN interview on Wednesday, New Jersey Sen. Bob Menendez detailed the importance of granting TPS to Ukraine, telling Jake Tapper:
"You can't take Ukrainians who legally enter the United States and happen to be here, to then send them back to a war zone."
Before today's announcement, Menendez closed by telling Tapper he "would expect the administration to ultimately grant TPS. I don't see how they do not."
1 hr 33 min ago
President of Georgia on Ukraine crisis: It looks like Putin is destroying the "whole country"
From CNN's Maureen Chowdhury
The President of Georgia Salome Zourabichvili told CNN's Jake Tapper that she doesn't believe that Russian President Vladimir Putin is only aiming to take select regions of Ukraine, but that he's "destroying the whole country."
"It doesn't look anymore that he's just aiming at annexing a few regions. It now looks that he's destroying the whole country. It's a war of mass destruction in a way," Zourabichvili said.
She added, " I heard his declarations today that all of that is moving according to plans, I'm not so sure that it's according to plans…  He was not planning on the way Ukraine is resisting. He had a mass assault that was very psychological with his forces that were used from all sides. And it has not worked. Of course militarily, he has superiority, which one day or the other will manifest itself. But the determination and the resistance of the Ukrainian people and leadership is really very admirable."
Georgia is a former Soviet Republic and has recently formally signed an application for membership into the European Union.
Watch whole interview here: