Major League Baseball's owner-imposed lockout is on the precipice of compromising the regular season. Monday marks the league's self-imposed deadline for when a new collective bargaining agreement must be reached before regular-season games are canceled. This would mark the first time in 27 years that regular-season contests are impacted by a work stoppage. (The 2020 season was altered by the pandemic.)
During Monday's meeting, MLB informed the MLBPA it is willing to miss a month's worth of games and took a more threatening tone, reports Evan Drellich of The Athletic. Earlier this month commissioner Rob Manfred said missing games would be a "disastrous outcome" for the sport, words that have rung hollow in the weeks since. The two sides began meetings at 10 a.m. ET on Monday in Jupiter, Florida and were still going into the night. Manfred told a group of reporter on site they were "working at it" shortly after meeting with players at 6 p.m. ET.
Around 8:35 p.m. ET, a representative from the owner side was sent back to meet with the players. It is believed this was the sixth separate meeting between to the two sides on Monday. A report from Evan Drellich of The Athletic indicates there has been movement toward a deal. The owners have presented the players with two options, per the report: 
1. Fourteen playoff teams, a minimum salary of around $700,000 and about $40 million in a bonus pool divided amongst the best pre-arbitration players. 
2. Twelve playoff teams, a minimum salary of around $675,000 and around $20 million in the pre-arbitration bonus pool. 
The two sides could continue negotiations on Tuesday and avoid pushing Opening Day back despite the league's deadline, adds ESPN's Jeff Passan.
CBS Sports has provided a timeline of the lockout here, but the short version is that the owners placed the padlocks on when the previous CBA expired. They were under no obligation to do so, but it was labeled as a defensive maneuver. The league then waited more than six weeks to make its first proposal.  The two sides have since had a number of in-person negotiations, with some of the main sticking points including the Competitive Balance Tax; revenue sharing; the breakdown of players who qualify for Super Two status in arbitration; and the league-minimum salary. 
CBS Sports is providing live updates of Monday's negotiations. You can find those below.
See New Posts
Pinned
We've reached the 12-hour mark
Negotiations between the MLB and MLBPA started a touch over 12 hours ago. One can only wonder how much differently the winter would have gone if talks started when the owners decided a lockout was necessary to trigger talks … instead they waited 43 days before presenting the players with an offer. 
Pinned
no updates for nearly an hour now, so it appears talks about still going strong 
Pinned
Pinned
Back and forth pace picking up
For anyone wanting to grasp at straws here … 
… it seems like going back and forth quickly might be a sign things are closer? Otherwise there wouldn't be a need to keep jumping back and forth so quickly, right? RIGHT? 
Pinned
Pinned
Pinned
For now, my expectation — which is informed speculation — is that talks will carry on deep into the night. Midnight eastern or so. And there still won't be a deal in place by then. 
Pinned
Pinned
Another meeting done, night not over 
I believe this was the fifth meeting with people from each side. They'll continue to go back and forth until we're told otherwise. Again, we aren't going to draw a conclusion on this being good news or anything — the hunch is still that no deal comes to fruition tonight — but it's definitely not bad news that talks continue. No one has stormed off yet. 
Pinned
MLB executives head back to players
More back and forth. I'm not sure it's a good sign or anything, but it's certainly not a bad sign that the two sides continue to talk. 
Pinned
Pinned
Expanded playoffs
An expansion of the playoffs remains one of the MLBPA's biggest bargaining chips. Previous reporting indicates that the players union could reject an expanded postseason if there is not a 162-game season in 2022.
Pinned
We could be in for a late night
After Rob Manfred says "we're working at it," the two sides appear set for more meetings throughout the night. The Feb. 28 deadline is made up by MLB, so we could still have talks later this week without Opening Day being officially delayed even if no deal on a new CBA is reached tonight.
Pinned
Pinned
Manfred heads back in with players
He's back for more. 
Pinned
Pinned
Third meeting done
This would be representatives from the owner side leaving the MLBPA discussions to report any progress back to their side. The MLB/owner side and MLBPA are now likely discussing matters among themselves. This was the third time today there was a meeting between the two sides (if we loop Commissioner Manfred in with the owner side, which we should) for roughly 45 minutes. 
Pinned
latest update is the sides are still meeting and that's about it 
Pinned
Sides meeting again
Members from the MLB contingent went over to meet with the players' side at about 5 pm ET.
Pinned
Let's check in on Joey Gallo
Yankees slugger Joey Gallo, like Bryce Harper, appears to be making alternate career plans. Let's appreciate his "skills" section.
Pinned
Players set up camp in Arizona
All indications are that this is moving toward a shutdown that prevents major-league spring training for the next several weeks, at least, and the players need to get/stay in shape. On that front, this is interesting:   
And Derrick Goold of the St. Louis Post-Dispatch (the Cardinals' spring training is in Florida) reports that the players from the Florida teams will look to do something similar. 
Pinned
Pinned
Sides not done yet
The meetings for the day are not done yet in Jupiter, per multiple reporters on the ground. Manfred met with players about an hour ago, and the two sides plan to meet again at some point this evening/tonight. 
Pinned
What happens after Monday's deadline?
Barring a miracle, MLB and the MLBPA will not strike a deal Monday. In that case the two sides would go their separate ways Tuesday and regroup, and MLB would likely announce more spring training games are being canceled. Although today is the "deadline" to start the season on time, the league won't announce Opening Day is postponed until absolutely necessary.
Similar to 2020, MLB will announce any regular season cancellations in small chunks. They won't come out say there will be no games the entire month of April, for example. They'll go a week at a time most likely, and of course the games will be "postponed" rather than "canceled," because teams don't have to issue immediate ticket refunds for postponements. They have your money and you'll have to wait to get it back.
Pinned
Pinned
Taillon responds to MLB's 'threat'
Pinned
Pinned
The latest session between MLB and the MLBPA is over. They've met twice today and figure to meet at least once more.
Pinned
Let's check in on the reigning NL MVP
Bryce Harper, exactly three years removed from signing a 13-year deal with the Phillies, appears to be making contingency plans for the upcoming season on his Instagram. We'll assume Harper is joking… for now.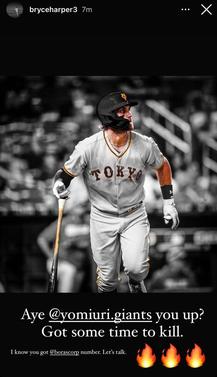 Pinned
See More