Mike Copeland: New California transplant for Waco; Target store alterations; Construction awards; Trucker shortage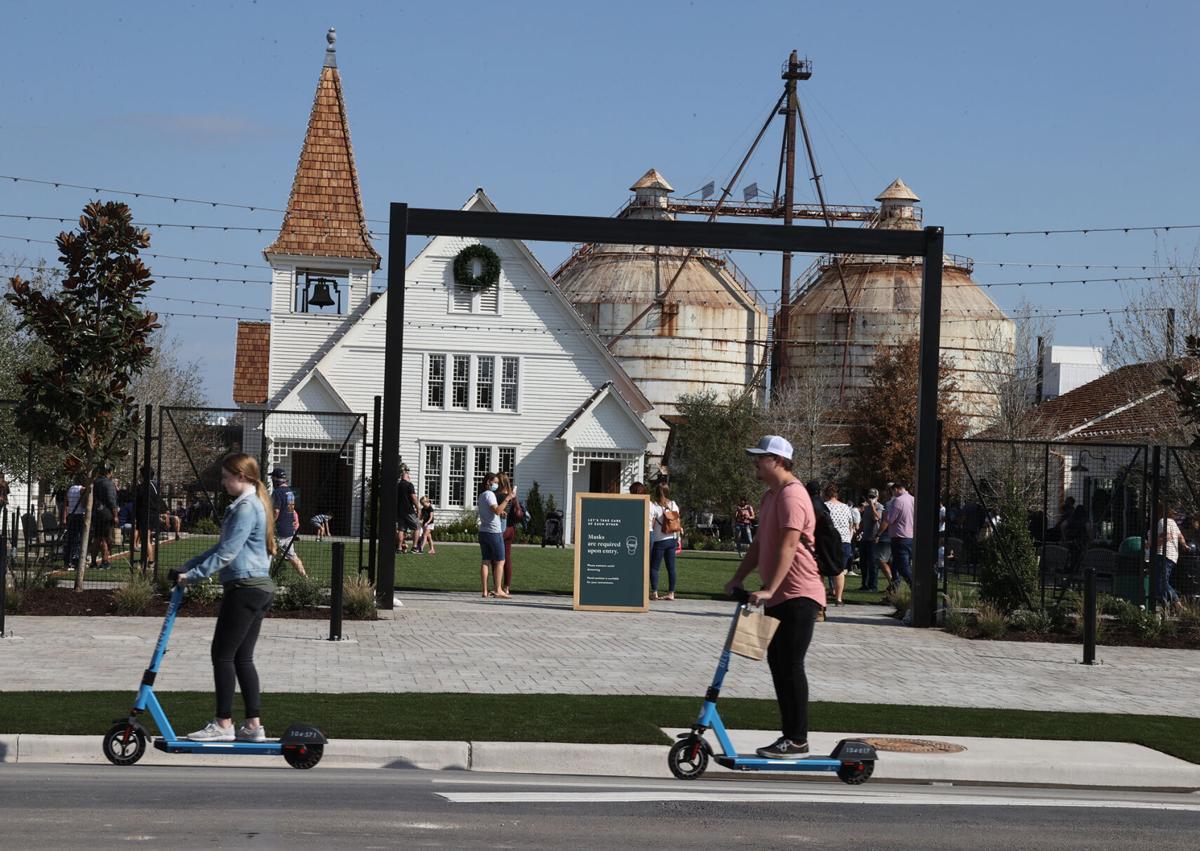 Getting goods from here to there has become quite the challenge. Shipping containers sit marooned off the West Coast.
"A backlog of ships has built up at the ports of Los Angeles and Long Beach despite efforts to increase container flow," said Harold Hunt, a research economist at the Texas Real Estate Research Center at Texas A&M University, who addressed the subject Tuesday in a press release on manufactured housing.
"Production of manufactured homes increased for the sixth straight month and shows no signs of slowing despite worsening bottlenecks in the supply chain and contractions in the pool of skilled labor," Hunt said in the press release.
A shortage of truck drivers, however, is more critical than the port delays, Hunt said. The press release cites an American Trucking Association estimate of a record 80,000 unfilled jobs in the trucking industry.
"A number of factors are at play for the shortage, including the retirement of older drivers, a lack of female drivers, and higher demand for time at home," Hunt said. "As a result, bottlenecks at ports are expected to continue well into next year."
During a phone interview, Hunt delved deeper into the matter, saying, "What would really help is more money. One constraint is pay not being high enough. Drivers are retiring, and younger people are not that attracted to truck driving. Money is what it will take to attract them."
Job website Zippia.com reports the average truck driver makes $51,000 a year, or $24.55 an hour, though pay rates are subject to wide fluctuations depending on industry and driver classification. Drivers can jockey over-the-road, commercial, line-haul and delivery vehicles.
"The shortage has been coming several years," Hunt said. "It started before the pandemic, which made it worse. I think it's a major factor in supply chain problems, which is pushing up the price of most things. There are so many job opportunities in every sector, lookers can afford to be picky.
"The worker is in the driver's seat," Hunt said, no pun intended.
Gas prices
Gas prices are slipping, according to AAA Texas, the auto club.
Texas motorists still pay about $1.07 more per gallon than at this time last year, but pain at the pump is subsiding. The statewide norm stood at $2.93 per gallon on Thursday, down 4 cents from the previous week.
Texas' average was the second-cheapest in the country, behind only Oklahoma's $2.91 per gallon for regular unleaded. Waco's average of $2.83 placed it among the five least expensive averages statewide.
Prices locally well below $2.83 were not scarce Friday. GasBuddy.com showed Sam's Club asking $2.61 a gallon, while QuikTrip on New Road, multiple Valero stations and a CEFCO on Imperial Drive were charging $2.62.
"Prices at the pump have been falling as crude oil prices have been fluctuating due to concerns over the COVID-19 Omicron variant," AAA Texas spokesperson Daniel Armbruster said in a press release. "On December 2, OPEC+ announced it would stick to its plan, for now, to raise production by 400,000 barrels per day in January, which has also helped keep a lid on oil prices."
Merrick Engineering plant underway
Yet another company is leaving California for Texas. No, it is not a high-tech refugee from Silicon Valley. Merrick Engineering makes plastic clothes hangers, among other injection-molded products, and it will spend $33 million placing a 400,000-square-foot plant on 71 acres in Texas Central Park.
Merrick broke ground on its new manufacturing facility and corporate headquarters last week. It is relocating from Corona, California. Merrick has had a manufacturing presence locally several years, employing about 150, but announced in late 2019 its plans to make Waco its company hub. Waco and McLennan County have approved almost $2.1 million in grants and tax breaks for Merrick.
Contractor awards
Several local construction contractors did themselves proud in 2020, winning awards in competition sponsored by the Texas branch of the Associated General Contractors of America, Waco chapter President K. Paul Holt said.
Built Wright Construction was honored in the $2 million to $5 million category for its work on American Bank Waco's Woodway branch, and in the $5 million to $10 million category for Alliance Bank Central Texas' Woodway branch.
John W. Erwin General Contractor won in the $10 million to $30 million category for its work expanding Magnolia Market at the Silos, a project that included a new entrance off Eighth Street near Webster Avenue, several new shops near that entrance, and a field for playing whiffle ball.
CWA Construction, meanwhile, won in the $500,000 to $2 million finish-out category for its work on the local JRBT Certified Public Accountants office. Mazanec Construction was honored in the zero to $10 million category of educational facilities for a Jarrell Independent School District auditorium.
Target alterations
Probably pocket change for a retailing giant such as Target, but a building permit valued at $868,850 has been secured for "alterations" to Waco's Target store at 5401 Bosque Blvd. Here's predicting work starts after the holidays.
Sales tax
On a related note, local retailers, restaurants and other providers of goods and services subject to sales tax continue to have banner years.
The city of Waco this month received a $3.98 million sales tax rebate from the Texas Comptroller's Office, a 15% increase from the $3.45 million it collected in December last year. Year-to-date, rebates total $49 million, a nearly 20% jump from the $41 million in refunds enjoyed year-to-date last year.
Rebates received by cities, counties and special tax districts in December reflect sales in October reported to the Comptroller's Office in November.
Get the latest local business news delivered FREE to your inbox weekly.