Intricate new stained-glass rose window for St. Alban's a labor of love
When it came to creating a new stained-glass window above the altar at St. Alban's Episcopal Church, no shortcuts were allowed.
Crews on Wednesday hoisted into place the oak frame for the rose window, 6.5 feet in diameter, that took Waco's Stanton Studios 160 hours to carve.
Artist Bryant Stanton figures it will take that much time again to cut all the pieces of handblown German glass, solder them with lead into 16 panels and install them into the ornate window frame at the site.
But Stanton said the hardest work came before the carving and cutting began: designing and redesigning the window in negotiation with the church's building committee.
"The design took the longest," he said. "I have a folder full of designs for St. Alban's, probably 100 versions."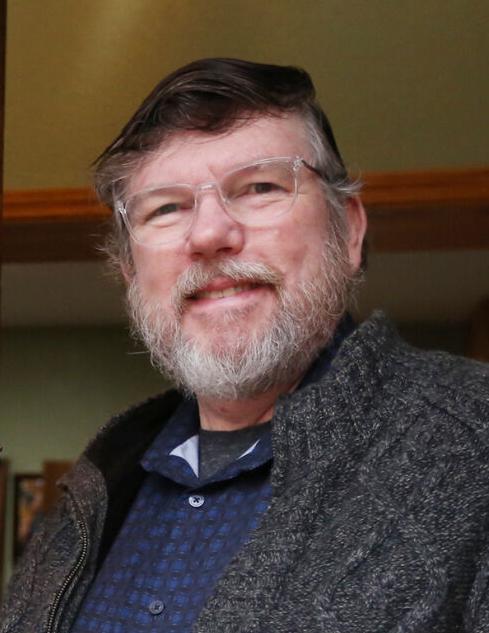 Leaders of the church at 305 N. 30th St. are happy with the result. What is being installed is a traditional eight-petal rose window with bold colors and midcentury modern glass design that complements the church's other stained-glass windows designed by a German artist in the 1950s.
The new window is part of a $2.5 million renovation of the sanctuary, a project that also includes refurbishing other stained-glass windows and installing a new pipe organ.
"It's our 75th anniversary," said Florence Scattergood, who heads the committee for the project. "We've tried to put all our eggs in one basket and say, 'This is going to be good for the next 50 years.'"
The project, funded by an anonymous donor, follows a $6 million building expansion that had as its centerpiece a 5,000-square-foot parish hall, where services are being held until the sanctuary is finished in March.
The sanctuary renovation reflects a commitment to traditional liturgical worship, Scattergood said.
"That's who we are, very much so," she said. "That's who we've been all along. The Anglican tradition of choral music is huge, the organ is huge. … In a city that has a lot of contemporary music, screens, et cetera, and worship teams, we have a traditional processing choir and pipe organ. It's good to have contrast, to offer something different."
She said St. Alban's is one of the fastest-growing Episcopal churches in the Texas diocese. A St. Alban's publication states the congregation's Sunday attendance grew from 140 in 2013, when the Rev. Aaron Zimmerman began as rector, to about 350 in early 2020 before the pandemic, and attendance has rebounded over the last year.
The stone neo-Gothic church building has been expanded and renovated many times over the last seven decades. The church was originally established in 1946 as a mission of St. Paul's Episcopal Church to serve the burgeoning neighborhoods of a postwar Waco. The church built its sanctuary in phases from 1949 to 1953, but the stained-glass windows took several years more to complete.
The church scouted a well-known German church artist, Ernst Jansen-Winkeln, and had a German firm create the handblown glass and ship it to the United States via New Orleans.
The windows featured highly stylized Christian imagery and were considered too modern by some parishioners, according to a St. Alban's history. A rose window was installed behind the choir loft and rows of windows flanked the sanctuary.
But it took a new capital campaign in the 1990s to get a window installed over the altar. Stanton designed the round painted stained-glass window, which showed a lamb of God image on a field of Texas bluebonnets.
In the current renovation, that window has been removed for use elsewhere in the building, and the new window is being installed at a higher point in the wall. The outline of the new rose window is being matched on the exterior with a masonry tracery, giving it an external visibility that was lacking before.
Scattergood recalled early conversations with Stanton about designing the new window.
"He said, 'Tell me what you want and look at the drawings, but don't show the drawings to other people, because everybody's going to have an opinion,'" she said with a laugh.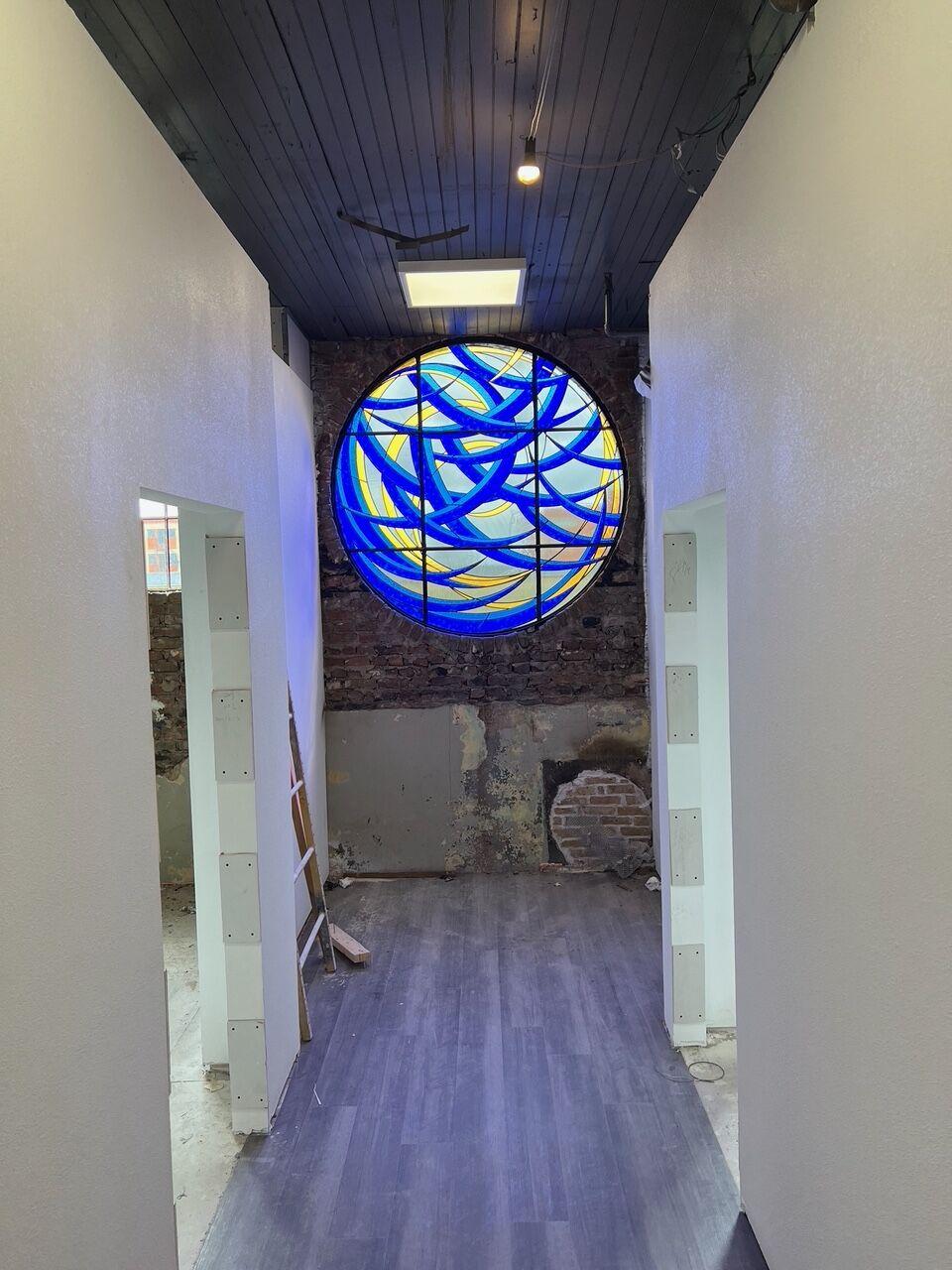 Stanton presented the board with an abstract design meant to suggest prayers being lifted like incense, but he said that went over "like a lead balloon." He turned his sights to a traditional rose window but ended up using the abstract design in a window that has now been installed at N25, a coworking space at the old bank building at 510 Austin Ave.
Stanton said the board wanted him to channel the style of Jansen-Winkeln's other work in the sanctuary.
"I had to really study the windows and get really intimately involved in what his style was," he said.
That meant filling a traditional rose window shape with modern designs suggesting wheat and grapes. With the board's help, he picked out a limited palette of colors: mostly blue, red, gold and gray.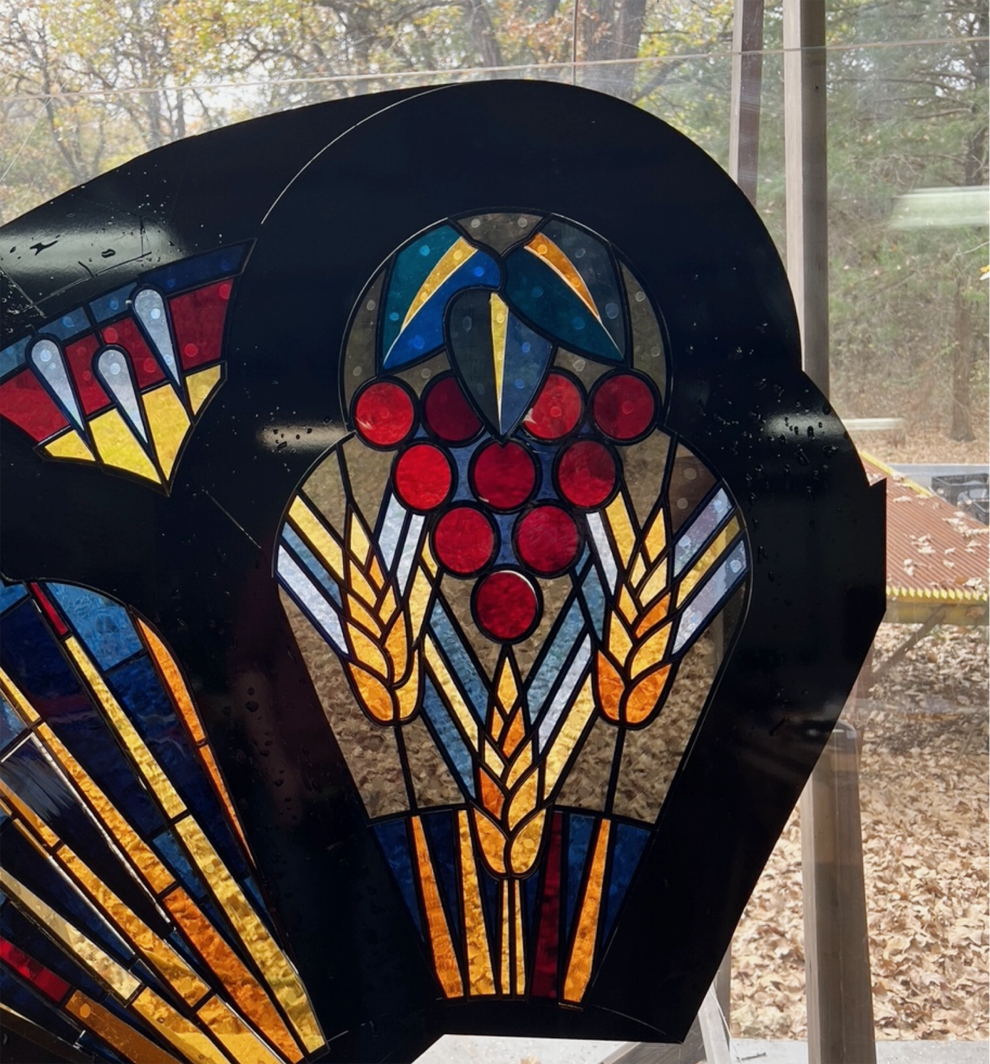 Stanton, who has been designing stained glass for four decades, said he understood the committee's eagerness to get the window right.
"Because of the care they're putting into their own house of worship, I want to do above and beyond what's expected and really make this a window that will last several generations," he said.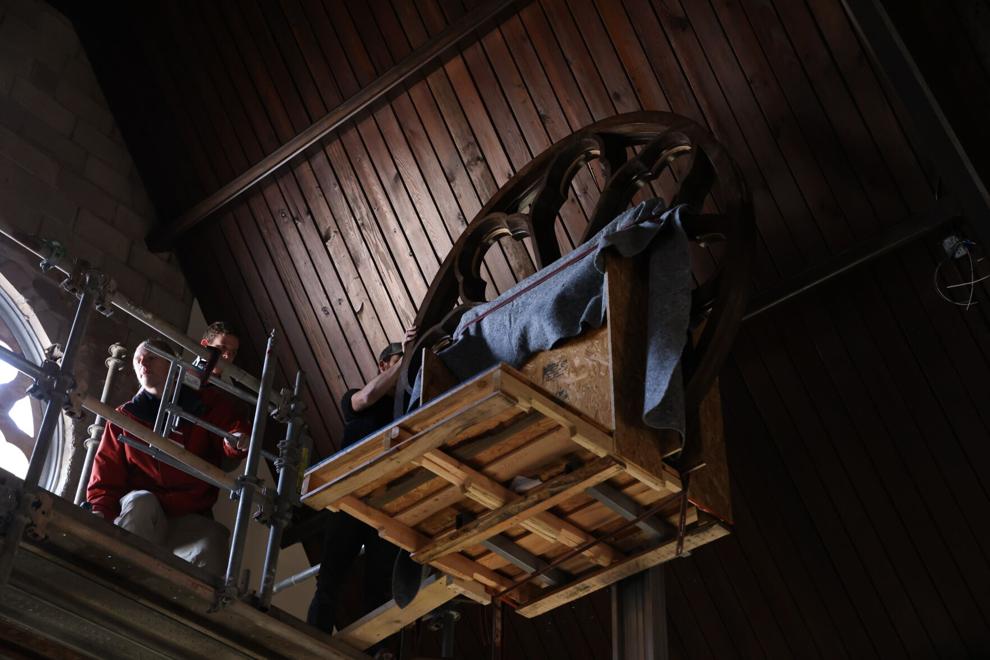 Subscribe to our Daily Headlines newsletter.