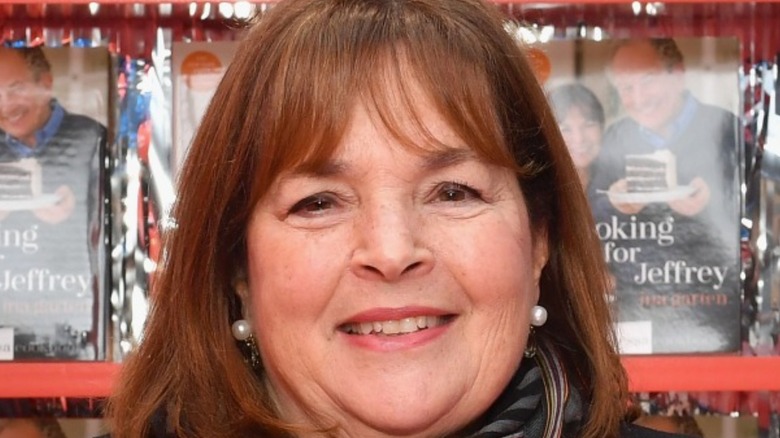 Noam Galai/Getty Images
Ina Garten has shared a lot with us over the years. We know the tipsy ingredient she considers her secret weapon, and we are all too happy to take the advice she serves up for home cooks. Well, now the Barefoot Contessa is sharing some of her favorite kitchen gadgets, including the one that she swears by, and — even better — it won't break the bank. The gadget is a juice extractor aka citrus reamer and it is both a practical and very useful kitchen tool for recipes that involve any type of fresh citrus juice. So, what exactly is a citrus reamer?
Per Martha Stewart, this wooden gadget has a handle and pointy cone that sets on top of the handle. It is used by pressing the pointy end into the flesh of cut-up limes, oranges, and lemons to extract the flavorful juice of these fruits. It's purposefully designed to get the "maximum" juice out of your citrus, like when you are making Garten's lemon chicken breast meal or her Real Margaritas (seen on Food Network), and you want to get every last drop. Not to mention, it's not only Garten's favorite juice extractor, but Stewart is also a fan. And it will only set you back $8.
The OXO Reamer is preferred by culinary stars
Per her Barefoot Contessa website, Ina Garten shares that her favorite juice extractor is the OXO Good Grips Wooden Citrus reamer, which you can buy on Amazon for just a little under $8. But what is equally of note about this tool is the fact that more than 15,000 people have taken to the Amazon product page to give it an average rating of 4.6 stars out of 5. What makes this hand-held extractor, made of solid beech wood, so awesome?
One verified purchaser shared, "I absolutely love this thing! Literally lets me gut my lemons so well. If you like pulp, this thing is a pulp machine! Definitely worth its money." Another applauded it as well and wrote, "Efficient, durable, easy to use (if you've got strong hands), and very thorough. Gets all the juice and most of the pulp out — where you want it, and not still attached to the rind. Much prefer this to the dainty little squeezers and tiny collector bottles." 
To get the most out of this reamer, and to keep the wood in tip-top shape, OXO does not recommend washing this kitchen tool in the dishwasher. As well, Martha Stewart notes another tip: If you let your uncut fruit soak in a bowl of hot water for just 20 minutes, and then roll the fruit on the counter before cutting the citrus in half — when you use your reamer, you will get the most juice possible out of your fruit.