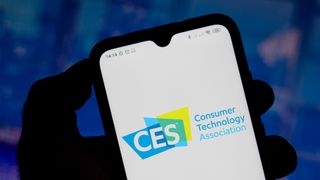 (Image credit: Shutterstock)
The cutting edge seemed to teeter on the edge Thursday, as enormous brands including Google and GM decided against sending staff to Las Vegas for the CES 2022 technology trade show, citing the Omicron variant of COVID-19 — yet it's still all systems go, according to the trade organization behind the event. 
"Unfortunately, after careful consideration we have decided to withhold from having an in-person presence at CES 2022," a Google spokesperson said in an email to TechRadar. "We've been closely monitoring the development of the Omicron variant, and have decided that this is the best choice for the health and safety of our teams."
GM CEO Mary Barra was scheduled to give a crucial keynote speech at the show. But according to Detroit-based Automotive News, the company had pulled out of CES for the same reason. "CES is an important technology platform, and we are continuing with our plans on Jan. 5 to share our significant company news including the reveal of the Chevrolet Silverado EV," GM said in a statement late Thursday.
GM did not respond Thursday evening to a request for confirmation.
Despite the widescale hesitation, the CTA remains committed to holding an in-person event 11 days from now, spokespeople for the organization tell TechRadar.
"Our focus remains on convening the tech industry and giving those who cannot attend in person the ability to experience the magic of CES digitally. … Given CES' comprehensive health measures — vaccination requirement, masking and availability of COVID-19 tests — coupled with lower attendance and social distancing measures, we are confident that attendees and exhibitors can have a socially distanced but worthwhile and productive event in Las Vegas, or while experiencing it online," sources tell us.
Google and GM join high-profile attendees including Intel, Amazon, Meta (formerly Facebook), Nvidia and lead sponsor T-Mobile late Thursday afternoon, announcing that the company will not be attending CES 2022 in person due to Omicron.
The massive CES tech expo in Vegas has been shook in the past week as most major tech media outlets — including TechRadar, Tom's Guide, The Verge, CNET, Engadget, TechCrunch, and Gizmodo — announced that they would not be sending reporters to the show, to avoid the effects of the Covid-19 pandemic. Over the past 48 hours, several key brands have joined. 
In addition to Google, Intel and Waymo announced Thursday that they would not be attending the show. 
"Based on quickly rising COVID-19 infection rates, Waymo has made the difficult decision not to participate in person at CES 2022. We are aiming to still virtually participate in some CES-related events," the company wrote in a post on its blog. 
"After consulting with health officials and in the spirit of Intel's safety policy, our plans for CES will move to a digital-first, live experience, with minimal on-site staff," Intel said in a statement to The Verge.
Worries spreading like a virus 
This year's show, which opens on January 5, was meant to herald a return to normality, with in-person attendance making a comeback after CES 2021 was relegated to being an online-only affair. But several big-name tech companies have now announced that they won't have a physical presence at the show, leading many to question what an in-person show will now look like.
In a statement to Bloomberg, Amazon blamed the "quickly shifting situation and uncertainty around the Omicron variant" for its decision to change its plans. Meta, T-Mobile and Twitter cited similar concerns in their statements outlining why they're no longer sending staff to CES 2022.
CES's organizers had planned to implement a slew of health protocols for the event, including requiring that all attendees prove they're vaccinated against Covid-19; however, it looks like that wasn't sufficient reassurance for the aforementioned companies, and others, who've chosen to play it safe and attend this year's show virtually.
TechRadar has also decided that we won't be covering CES 2022 in person, out of concern for the health and wellbeing of our journalists. but rest assured that we'll still be bringing you extensive coverage of the event, delivering minute-by-minute breaking news of product launches and other major announcements, and in-depth analysis of the new tech you need to know about.
Despite the high-profile no-shows, CES's organizers do not currently intend to the format of this year's event. When asked for comment on Wednesday, a representative for CTA – the team behind CES – let us know that "CES [2022] will still take place January 5-8 in Las Vegas."
They added, "Thousands of entrepreneurs, businesses, media, and buyers are planning to come to Las Vegas. Top leaders from federal and state and foreign governments are attending. And, we have received several thousand new registrants since late last week.
"Given CES' comprehensive health measures — vaccination requirement, masking and availability of COVID-19 tests — coupled with lower attendance and social distancing measures, we are confident that attendees and exhibitors will have a socially distanced but worthwhile and productive event."
Who has pulled out of CES 2022?
Below is a list of the most high-profile CES attendees that have so far announced that they won't be attending CES 2022 in person. As the situation develops we'll likely see more companies update their plans, so expect to see this list grow in the build-up to CES 2022's start date. 
Google
GM
Intel
Waymo
Meta
Amazon
Twitter
T-Mobile
Nvidia
Pinterest
iHeartRadio
Is CES 2022 canceled?
So far there have been no announcements that suggest CES 2022 won't go ahead as planned; CES event organizers have told us that they will still hold an in-person event in Las Vegas from January 5 to January 8. 
Even if the event organizers ultimately decided to scrap the in-person event altogether, we'll likely see the show go ahead in a virtual format, as it did last year.
We'll bring you all the latest news on the event as we get it – and remember, tune in to TechRadar for in-depth coverage of CES 2022, whatever format it appears in.
Hamish is a Staff Writer for TechRadar, having previously written for the site and Gfinity Esports as a freelance writer. He has been writing about tech and gaming for multiple years, and now lends his experience to cover news and reviews across everything on TechRadar (from Computing to Audio to Gaming and the rest). In his free time, you'll likely find Hamish humming show tunes while building Lego or playing D&D with his mates.