Gary Johnson: NASA takes big step in deterring asteroids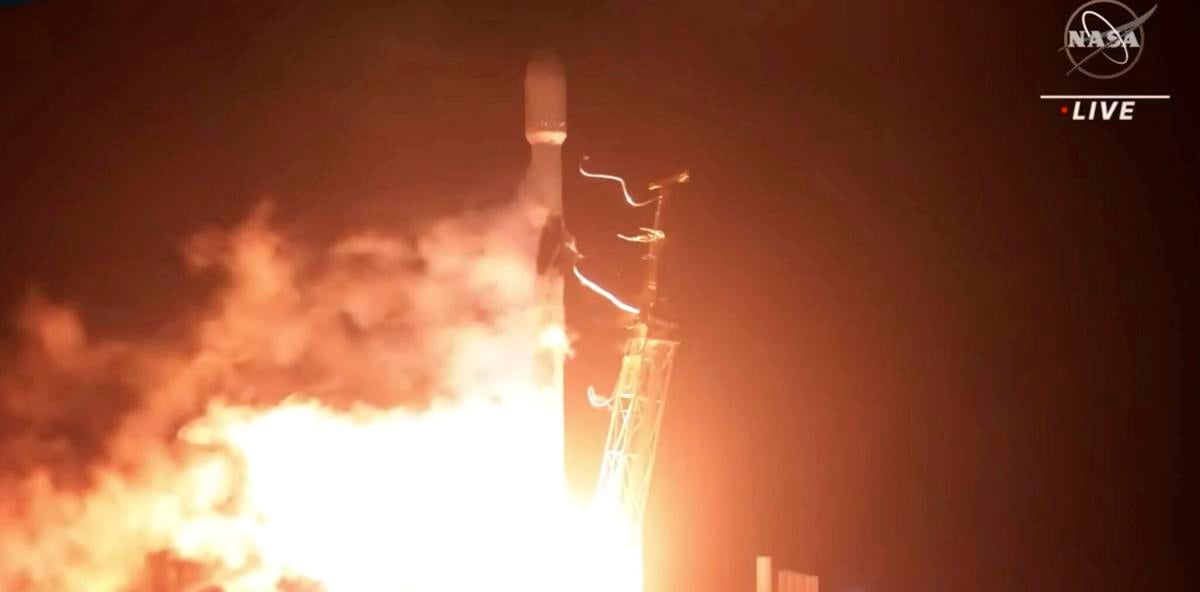 GARY W. JOHNSON Board of Contributors
Recent news stories tell us that NASA's ambitious Double Asteroid Redirection Test (DART) spacecraft, successfully launched by SpaceX last month, is due to arrive at near-Earth asteroid Didymos in September 2022. This is an asteroid with its own small moon, Dimorphos. The NASA mission: Collide with Dimorphos to see how much its orbit around Didymos changes. The impact is one of three possible means of deflecting a modest-sized object in space. Others involve employing nuclear weapons to shift an object's apocalyptic course or actually manipulating the object's course through gravity between spacecraft and the object.
Acknowledging a widely accepted theory explaining extinction of the dinosaurs some 65 million years ago, SpaceX founder and CEO Elon Musk wittily tweeted his excitement: "Avenge the dinosaurs!!" His tweet comes in response to NASA's optimistic take, even given the scope of what's needed in the future: "Asteroids have been hitting the Earth for billions of years. Now, we begin to make it stop."
Well, it's a start. And, no, neither Didymos nor Dimorphos is presently on collision course with Earth.
Some news accounts compare NASA's Lindley Johnson to the muscled-up Bruce Willis character in the 1998 sci-fi film "Armageddon" about desperate efforts to deflect an asteroid "the size of Texas." An Air Force veteran and experienced asteroid seeker, Johnson is planetary defense officer (head honcho) at NASA's Planetary Defense Coordination Office and even has an asteroid named for him. I met him at an international asteroid defense conference in Granada, Spain, in 2009, though he probably wouldn't remember me. I also met Apollo 9 astronaut Rusty Schweickart, founder of the asteroid-hunting B612 Foundation, as well as Romanian cosmonaut Dumitru Prunariu, a kindred spirit when it comes to space exploration and earthly vigilance regarding tens of thousands of asteroids. Chatting with Prunariu — declared first Asteroid Day ambassador for his service — was like talking to Santa Claus with a Russian accent.
The conference prioritized detection, then means of deflection, but ignored the means to deliver big payloads to near-Earth asteroids. At the time, people working in this field had identified most regional-devastation and extinction-event threats, but very few of the smaller "city-buster" objects. Not much has changed since then: Yes, workers have found more of the city-busting threats but by no means all of them. DART is the first deliberate means-of-deflection experiment. And we can still send only rather small items aloft for such missions.
Asteroid detection with Earth-based telescopes gazing sunward is impossible. And the object that exploded above Chelyabinsk, Russia, on Feb. 15, 2013, and several more near-misses just this year came at Earth from sunward. Consequently, none were seen till they had done damage or narrowly lumbered by us. Nearly all of these objects are generally charcoal-colored — almost invisible against the blackness of space in visible light, even when looking away from the sun's glare.
These objects are more easily seen in infrared, but again only when looking outward from the sun. By orbiting the sun, these objects are warmed to a temperature above the usual temperature of deep space. Thus they can be seen via infrared detection devices. Even then, the weak heat signals are washed out by the intense glare coming from the sun if one looks sunward.
And the threat is real: Entry of such objects into Earth's atmosphere can result in explosions comparable to large nuclear weapons detonating in the air or on the ground. There were reportedly some 1,500 serious injuries in Chelyabinsk when that object exploded in the air over the city just eight years ago. The explosion was equivalent to a few-hundred kiloton nuclear weapon. Had it hit the ground and exploded, far more casualties would have resulted. As it was, the blast was serious enough for NASA to establish the Planetary Defense Coordination Office, acting on data from the agency's Near-Earth Object Observations Program.
Detection is key to a successful defense. Schweickart and the B612 Foundation were right with their "sentinel" idea: We really do need satellites orbiting nearer the sun, looking outward in the infrared, to see threats hurtling toward Earth from its sunward side as well as those farther out. Yet this specific asteroid-hunting satellite project remains only a discussion point, even as another asteroid slips closely past Earth next weekend. (Among the B612 Foundation's principles, striking in its proactive tenor given some political sentiments about science today: "We believe in stepping up and addressing unmet challenges. We don't believe in wishing for the best, but instead in exploring and devising solutions with the best outcomes.")
These space threats are highly variable in composition and mechanical properties: Every probe sees something different. Some objects are deemed "rubble piles," sort of like a dry gravel bank bound together by threadbare gravity. Applying a deflection force to one of these disrupts it completely, turning a bullet strike into a shotgun blast. If undertaken too close to Earth, it all still hits our planet; if done far out, some of the blasted remnants should have spread apart enough to miss Earth. This range effect is a serious consideration in the choice of deflection means.
Unexpectedly, comets have proven to be more similar to asteroids than once thought. Yet comet orbits are such that detection warning times are short — sometimes mere weeks, unlike asteroids. This also critically affects one's choice of deflection method. With years of warning, the employment of "gravity tractors" has the least risk of disruption (that is, the breaking up of the asteroid into pieces) but requires years to take effect. Impactors or small nuclear weapons are also possible, but with greater disruption risk. Exact estimates are not yet possible because we still know too little about these space objects.
For objects detected with but weeks to spare, larger impactors risk disruption, perhaps too close to avoid shotgun-blast consequences, plus multiple hits are needed to have sufficient effect. Somewhat larger nuclear weapons are also possible, but with an even greater disruption risk. Exact estimates are not yet possible.
For objects with only days to spare, a giant impactor or a large nuclear weapon detonated alongside might provide enough deflection, but with an almost certain risk of shattering disruption and way too close to Earth. Again, exact estimates are not yet possible.
The next steps are clear: (1) Add infrared detection satellites sunward of Earth; (2) visit more of these objects to see real "ground truth" regarding properties versus type and size; (3) start developing testable designs for impactor and gravity-tractor craft; and (4) begin acquiring an inventory of the biggest rockets to carry them.
No better reason exists to have a space program than defending Earth from impacts. Granted, by the time you can actually send men to near-Earth asteroids to do what robots cannot, you also have the means to send men to Mars, a fervent dream of Elon Musk, whose SpaceX Falcon 9 rocketry sent NASA's DART mission aloft. Problem: If an asteroid hurtles our way and we aren't smartly equipped to deflect it, most of us here on terra firma will go the way of the dinosaurs.
Gary W. Johnson is a former cutting-edge aerospace defense engineer. He lives in McGregor near SpaceX's rocket-testing facility. He attended the first International Academy of Aeronautics Planetary Defense Conference, held to assess political, legal and policy necessities to ensure our planet is protected from impacts by asteroids and comets.
Get opinion pieces, letters and editorials sent directly to your inbox weekly!