Fallen dreams: Falls City stuns No. 1 Mart with state semifinal comeback, 24-20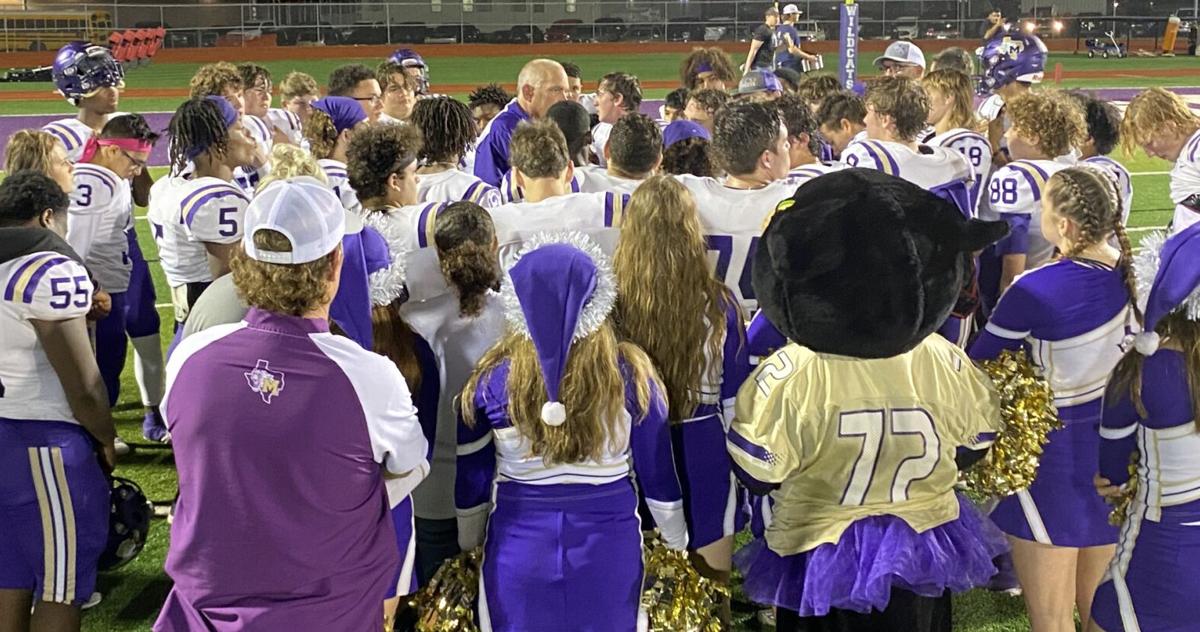 JASON ORTS Special to the Tribune-Herald
ELGIN — When Klyderion Campbell caught an 8-yard touchdown pass from Trey Powell on the first play of the fourth quarter Friday night, it seemed Mart was destined for its fifth straight appearance in a state championship game.
The Panthers led Falls City, 20-10, and the Beavers' only touchdown to that point had come on a 5-yard drive after a Mart fumble.
But Falls City answered quickly, got the ball with one last chance after Mart missed a field goal and went on a seven-minute drive. On the last play of the 16-play march, Luke Shaffer spotted Grant Jendrusch wide open behind the Mart defense for an 18-yard touchdown with 39 seconds left that proved to be the winner as the Beavers stunned the top-ranked Panthers, 24-20, at Wildcat Stadium.
"If you play this game long enough, this is eventually going to happen," Mart coach Kevin Hoffman said. "Nobody ever wins them all. We've been on a great run. (I told the team), 'Don't let this one loss ruin all the great memories that we've all done.'"
Mart got the ball with three timeouts and 75 yards to go. It crossed midfield on a pass from Powell to Klyderion Campbell to the Falls City 47 with six seconds left, but Powell's heave to the end zone was well short and intercepted as time expired.
Players from Falls City (14-1) exploded off the sideline in celebration of reaching the Class 2A Division II state championship game, where it will meet Stratford at 11 a.m. Thursday at AT&T Stadium.
It was a defensive struggle for two and a half quarters, with Mart leading 10-3 midway through the third.
That was when the Panthers were backed up to their own 2 by a Shaffer punt and fumbled on the next play. Falls City recovered, and Jendrusch scored from 3 yards out to tie the score, but Mart (14-1) controlled the next few minutes.
The Panthers got a 40-yard field goal from Armando Chavez to retake the lead, and Dominic Medlock forced and recovered a fumble at the Falls City 15.
That set up the strike from Powell to Campbell to give Mart 10 points in 2:03 and a two-score lead. After Schaffer ran for a 17-yard touchdown to draw the Beavers back within 20-17, Mart had a chance to put the game away. It drove as far as the Falls City 11 but was called for an illegal forward pass and threw an incompletion before Chavez's 28-yard field goal try was wide right.
"They're big, they're good and they get after you," Hoffman said. "We missed some throws we usually throw and catch for whatever reason. We don't have a whole lot of depth in the offensive line, and we had one that hurt an ankle and one that's been sick and had cramping issues. We hung in there and had our chances."
Mart took the early lead on a 46-yard touchdown when Brandon Lundy caught a wide receiver screen and took the distance in the first quarter, and the teams traded field goals before halftime.
Powell was 20-for-32 for 211 yards and two touchdowns and the last-second interception. Campbell was his favorite target with 11 catches for 107 yards and a score.
Shaffer only had two completions in five tries for 54 yards and the late touchdown. The Beavers ran the ball 55 times for 246 yards and seemed to wear down the Mart defense, causing missed tackles to pile up and runs that were going for 2 or 3 yards early springing for more later.
"That's what Falls City does," Hoffman said. "You hope you can get a turnover here or a stop there. We made mistakes in the red zone. We're backed up and turn it over and give them an easy touchdown, but that's part of the game. They took advantage of the opportunities they had. We had a few chances and didn't take advantage of them."
Sent weekly directly to your inbox!