Centex softball preview: Motivation not hard to find for some area squads
By BRIAN COATS Special to the Tribune-Herald
With the regular season cranking up, softball teams throughout Central Texas hit the diamonds this week, and, just like every year about this time, hope springs eternal. As they lace up the cleats, players are eager to turn their full attention to the 2022 campaign.
There might be a few area teams, though, that still have the 2021 season in the back of their minds, at least initially. Several squads made deep playoff runs last year, but for the first time since 2018, no Central Texas team claimed a state championship. Successful seasons were plentiful, but some teams are looking to use coming up short of the ultimate goal as a springboard and as motivation for 2022.
Take Crawford, for instance. The Lady Pirates advanced to the Class 2A state championship game against Stamford last June, but fell 5-4 after taking a 4-1 lead into the final innings. It was an especially tough pill to swallow, as Crawford was unable to defend its 2019 state title because COVID-19 wiped out the 2020 season.
Head coach Kirk Allen said the expectations every year in Crawford are to advance to the state tournament, but being on the brink of a title nine months ago could serve as an extra incentive.
"If you get that close and you don't quite reach your goal, maybe that does give you a little extra motivation," he said. "But they are motivated and want to do well every year."
Making it all the way to the final game was a valuable learning experience for a young squad, Allen said.
"We learned you cannot take anything for granted," he said. "You have to go get 21 outs. I think our group is going to be better off because they had that experience. We only had two seniors last year; the majority of our team was freshman and sophomores. Maybe they went and watched when they were younger, but for most of them, because of COVID the year before, it was their first time to be there."
Allen indeed returns the bulk of that oh-so-close 2021 team, including three first-team Super Centex players: Sophomore outfielder London Minnix, sophomore infielder Savanna Pogue and junior pitcher Kenzie Jones. With Minnix roaming centerfield and Pogue at shortstop, Crawford will be strong in the critical up-the-middle positions.
Another team strength is senior leadership, Allen said.
"Kylie Ray and Lexi Moody are two of those typical Crawford kids that play multiple sports," he said. "They lead by example and by how hard they work."
Even though he only lost one starter from 2021, Allen said some players will be asked to fill different positions in 2022. He said he especially enjoys the annual roster- and lineup-setting.
"Every year is different, and that is what makes it fun," he said. "You get different kids every year and different combinations. Just because something worked last year does not mean it will work this year, so we will see. It is always fun to put the puzzle pieces together."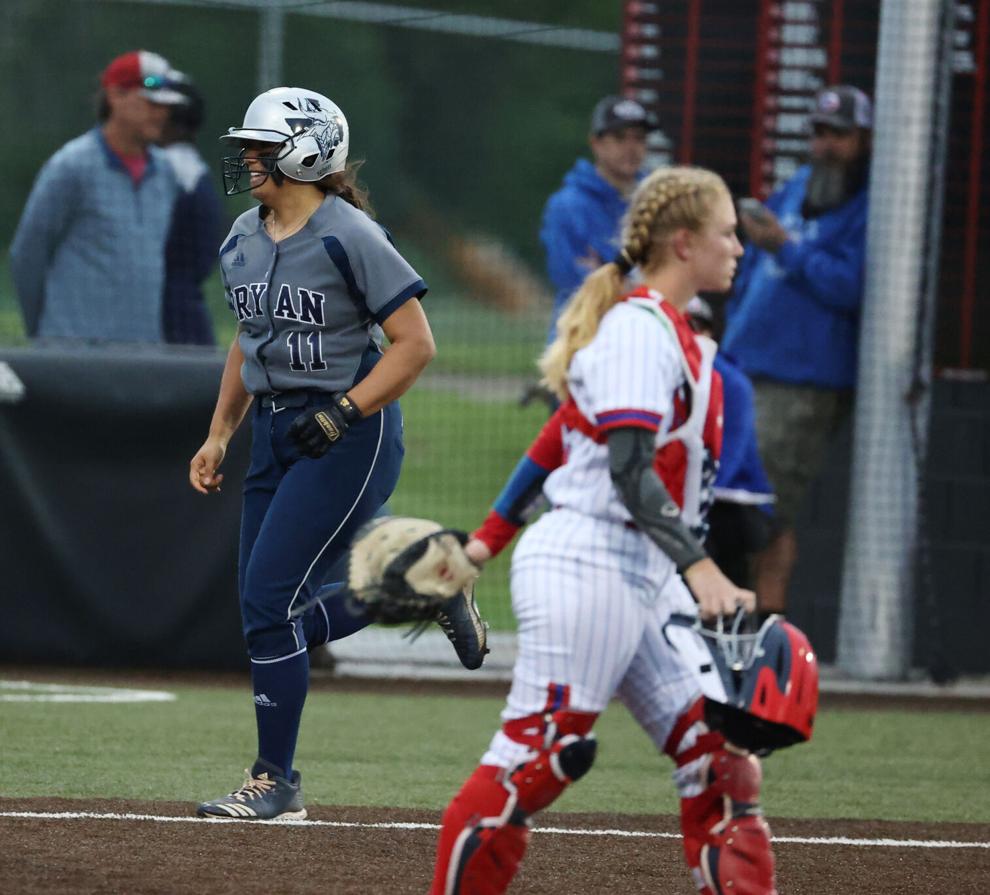 Another squad poised for a fun year after a deep 2021 playoff run is Midway. The Pantherettes dominated the "District of Doom," as they run-ruled every 11-6A opponent except Mansfield Lake Ridge on their way to an undefeated league championship. In the playoffs, they easily dispatched Harker Heights and Rockwall Heath before falling to Bryan in three games in the regional quarterfinals. That team featured sisters and battery mates Jessica and Jacque Adams, who now both play for UT-Arlington.
Unlike Crawford, though, Midway will be mostly younger in 2022, as key seniors like Natalie Harris, Maggie Pledging and Alex Earhart have moved on. Perhaps because of that, head coach Jordan Williams sees last year's success as a definite potential springboard and something to build on, rather than a lasting disappointment.
"We have some youth on the team this year that bring a totally different energy," she said. "I think I'm the only one that dwells on our last lost. I have not noticed any kind of bitter taste. If anything, they are relaxed and loose. It is a fun, energetic group."
Actually, Midway will be both youthful and experienced, as they have a number of sophomores that gained valuable experience last year as freshman. First-team Super Centex outfielder Kelsey Mathis is an example, and this year, she will be one of the captains of the Pantherettes. Williams said Mathis is a vocal leader.
"She is a blessing for me," Williams said, "because she is always talking. She'll tell a pinch runner what to do, or remind a batter that we are looking to hit behind a runner, things like that."
Third baseman Tristian Thompson and catcher Charlee Yourman, both college softball commits, are other returning leaders. Other players to watch for Midway include sophomore shortstop Macy Pick, junior pitcher Hailey Blake and freshman pitcher Brylan Twitty.
With only one loss prior to the Bryan series last year, losing to the Lady Vikings came as a bit of a surprise, as Midway ascended to as high as a No. 3 state ranking in 2021. After so many one-sided games in 2021, Williams scheduled some tough non-district tournaments in 2022, where they will encounter strong, playoff-caliber competition. The Pantherettes will compete at tournaments in Bryan, Allen and Southlake Carroll in February and March, before beginning league play March 8 at Waxahachie.
Speaking of league play, one of the toughest 3A districts in the state in multiple sports, including softball, is 17-3A. Lorena won the league in 2021, but Troy was the last team standing, as the Trojanettes won a hard-fought, three-game playoff series against the Lady Leopards in the regional quarterfinals. After getting swept by Lorena during the regular season, turning around and defeating their district rivals in the playoffs was a special moment, Troy head coach Kyle Allred said.
"The girls were excited last year, and they are excited this year," he said. "They want to get further this year because they got a taste of (deep playoff success) last year."
Every starter from the 2021 regional semifinalist team (Troy eventually lost to Diboll) returns. Even with such an experienced squad, Allred knows repeating last season's run will be a tremendous challenge.
"Last year, we came out of district in fourth place," he said. "Just getting out of this district is an accomplishment. But we are focused, and the girls are ready to play."
In addition to Troy and Lorena, West, Clifton and Riesel should be in the playoff mix in 2022. The District Executive Committee put a new scheduling structure in place for the upcoming season that should create an interesting dynamic. Teams will play each other twice in one week in a home-and-home format, rather than once in the first half of district and once in the second half.
"That's going to add a new twist this year," Allred said, "You have a short time to make adjustments."
Allred will look to returning Super Centex players Caton Letbetter (second base) and Lilly Garcia (catcher) to lead the Trojanettes. The duo belted 10 home runs and nine home runs, respectively, in 2021. Layni Tanner, the Trojanette shortstop and an Angelo State commit, should be another player to watch.
Allred said hitting should be a team strength.
"We have good team speed and good power hitting," he said. "They are a fun, relaxed group of kids."
Sent weekly directly to your inbox!