Motion sensors in her room and contactless monitoring devices under her mattress feed data into an AI system about 85-year-old Saratha Subramaniam. This helps staff at an assisted living centre at Perungudi ensure all is well with her. The fiercely independent woman prefers to live alone at Atulya Senior Living; two of her sons are in the US and another is in Australia, but she refused to join them even after her husband passed away during the lockdown.
Her day begins with coffee at 6am and a video call with two of her sons. That cheers her up to face the day which can include routine medical check-ups and yoga and physiotherapy sessions. Evenings are for a walk and some games to stimulate the mind.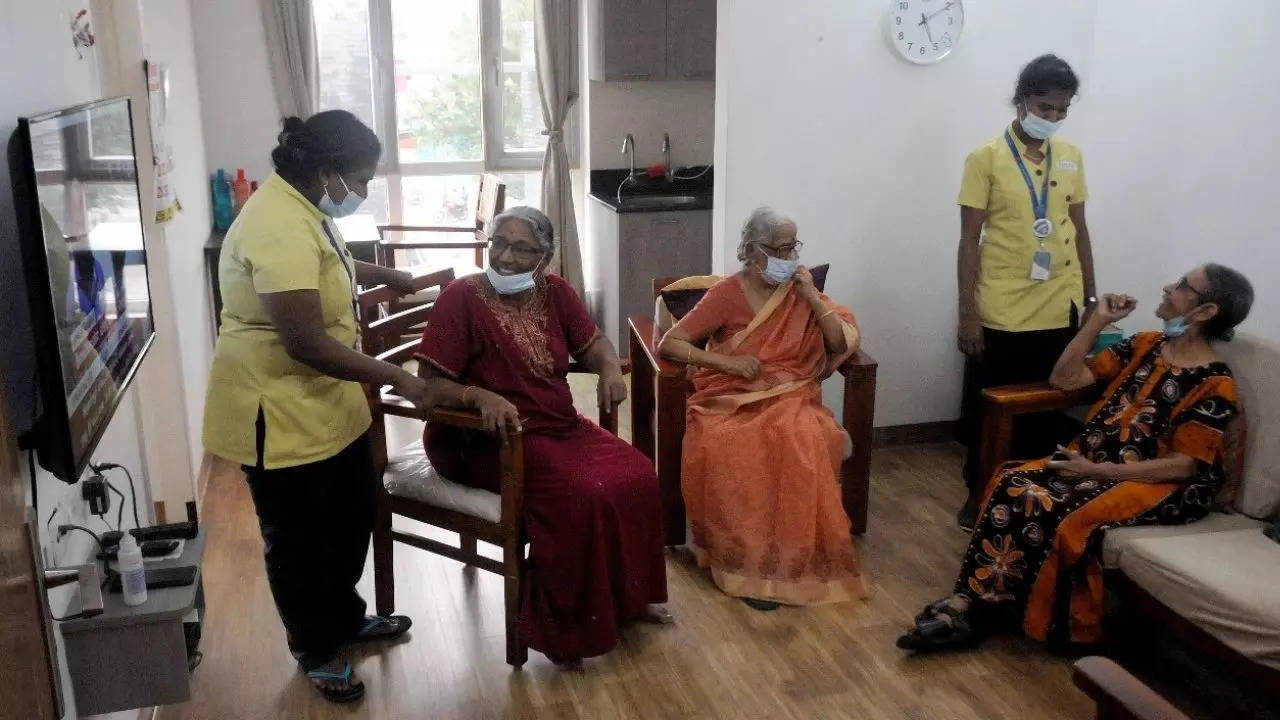 Covid-19 pandemic has triggered a spurt in demand for services and homes to care for the elderly
"When I lost my husband last year, the staff of Athulya helped me conduct the last rites as the children could not come because of the lockdown," she says.
Demand for elder care services has spiked since the Covid-19 outbreak as people settled abroad worry they may not be able to reach their parents back home in time in case of any emergency.
Athulya offers rooms at `50,000-`60,000 a month for single occupancy and `85,000 for a couple. It will soon have facilities for 500 people. CEO Srinivasan G says demand has doubled since the Covid-19 outbreak; bookings have more than doubled from 20 a month. "The consistency and quality of care is important. If anyone opts for piecemeal service, the cost would be upwards of `75,000," says Srinivasan.
Elder care is broadly divided into three categories. One, providing services for the senior at their doorstep; two, senior living in dedicated living spaces; and, three, assisted living.
Since some seniors have their own house, relocating them to another centre may be akin to uprooting them. This is where Alserv comes in. It assists seniors in living a fully independent life within the comfort of their own homes. Its co-founder Jagadish Ramamoorthy says: "There is no more hesitation among the people who have enrolled with us and have now extended the service period. Our strength is relationship management; we engage with customers twice a week over phone calls."
This works well only if the senior has a companion and is physically fit to manage with some support.
Ramamoorthy says bookings for service have gone up by five times from 100 homes to 500 homes in the last one year.
Alive Life Spaces saw 85% of its retirement home facility in Thiruvananthapuram filled within months of launch. "We will be entering Chennai in the next few months," said its CEO B R B Puthran. Seniors who have built real estate assets over the years are now selling them to fund their retirement homes, says Puthran. The company offers a range of services — from retirement villas and flats to elder friendly home renovations and merchandise.
Coimbatore-based Ananya's Nana Nani Homes has sold 1,200 houses till now and is adding another 400 units. "There is a growing demand for retirement homes as the joint family system does not exist anymore. Unlike the gated communities in the city, we offer elder care facilities from visits to hospitals, in-house doctors and a nursing team, cafeteria, dining hall, spa, battery car services, 24×7 security, housekeeping, ramps and a swimming pool. Many women have now learned to swim for the first time," says managing director Uma Maheshwari.
Nana Nani Homes has tied up with colleges for students to visit the retirement home and spend time with the elderly in return for life lessons and career advice. "We also allow the wards of these seniors to visit and stay with them for up to 60 days a year," says Uma Maheshwari.